Prefer to exhibit in the Cyber Zone?
The Chancellor of the Exchequer, Philip Hammond, recently launched the UK's new National Cyber Security Strategy which provides the means by which the government will achieve its goal of the UK being "secure and resilient to cyber threats, prosperous and confident in the digital world" by 2021.
The announcement reiterated the £1.9 billion of funding outlined in the 2015 SDSR. The government intends to intervene more actively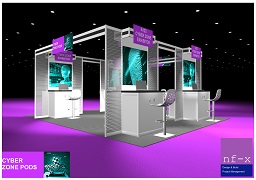 and use increased investment and support market forces to raise cyber security standards. The UK will also allocate a proportion of the £165m Defence and Cyber Innovation Fund to support innovative procurement in defence and security. 
With such significant opportunities, it's time to get ready to showcase your products and services to a specific and vetted audience in this dedicated area within the show.
The benefits of exhibiting as part of this exciting initiative include:
Dedicated show area for companies of all sizes offering a range of cyber
security solutions
A hosted domestic delegation programme, enabling companies to meet
customers active in digital investigation and intelligence, critical national
infrastructure, information assurance, situational awareness and
communications data
B2B introductions through a cyber security briefing programme enabling
companies to present on the latest challenges and developments in cyber
security and to demonstrate relevant solutions
Access to an international delegation programme run by DIT DSO