Security & Policing 2019 included a range of new and enhanced features. Here are some of the highlights.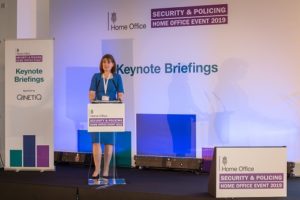 Keynotes
An exciting and informative Keynote programme was delivered by senior Government officials including Sir Stephen House QPM, The Rt Hon Ben Wallace MP, Claudia Sturt and Sir Philip Rutnam KCB.
Live Immersive Features
Three live immersives addressed security and law enforcement challenges faced in the UK today. Scenarios, along with potential solutions and product applications, were developed for: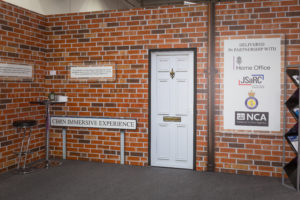 CBRN Incident – In responding to a suspected hazardous substance incident, visitors saw how technology can identify chemicals present and what techniques are used to capture and preserve forensic evidence safely in a challenging environment.
Serious Organised Crime – Using the scenario of someone hacking bank accounts, visitors saw how emerging technology can be deployed in digital forensic examination to create a digital footprint to locate and apprehend a perpetrator.
Prison Visitor Verification – Case studies showcased a range of new technologies for the improvement in validation of visitor identity when entering and exiting prisons.
Government Zones
An enhanced Government footprint consisting of a new Government Demonstration Zone and enhanced Government Networking Zone reflected the opportunity for wider engagement with Government departments and law enforcement agencies.
The Market Place
A brand new feature, The Market Place was a forum for new products, services and techniques to be presented in short elevator style pitches. Market engagement briefings were also held daily from organisations such as Dstl and US Naval Criminal Investigative Service.

Live Demo Arena
In the Live Demo Arena, partner organisations such as British Transport Police, Her Majesty's Prison & Probation Service and Leicestershire Fire and Rescue Service  demonstrated their techniques and use of cutting edge technologies and equipment across a range of different scenarios.