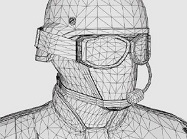 We are delighted to introduce this brand new feature providing you with the opportunity to learn about all the best and emerging ideas. Sponsored by Smiths Detection, drop by over the three days to get a flavour of what's on offer and keep an eye on the agenda screen by the The Market Place for up-to-date listings.
SEE FULL SCHEDULE FOR EACH DAY
The schedule encompasses four categories:
Pitches: Each morning, listen to short elevator-style pitches on exhibitor capabilities and how they meet the requirements of public and private sector end users
Products: Late morning and each afternoon, hear about innovative new products and solutions that have been launched at the event followed by talks from companies presenting their best-in-class products
Prize: Daily after lunch, hear the winner of the 2019 ADS Innovation Award present the purpose and application of their winning entry
Prospects: Listen to the next generation of security professionals share their accounts of how they are involved in the UK security and policing sector
Over lunchtime, listen to a series of UK and international Government speakers present on topics of direct interest to industry, including how to engage with future trends and priorities.