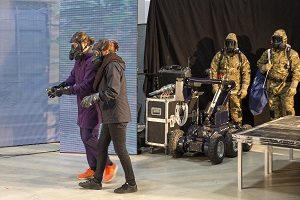 With 93% of visitors looking for suppliers of new technologies and services at Security and Policing (visitor survey 2019), the event offers an opportunity for exhibitors to showcase new innovations, make connections and generate leads.
A choice of exhibiting options will meet your spacing requirements, but by taking advantage of these additional opportunities, your presence at the event can be enhanced further.
Maximise your exposure
Elevate your products and services by participating in our new 'Fusion Forum' feature. This is a new, interactive and accessible 'theatre' on the exhibition floor, promoting new and integrated ways to delivering security solutions across government, industry and academia. It will incorporate a blend of keynote addresses, fusion panel sessions and live challenges.
Another avenue is product placement within the Live Immersive Features. To help build the experience exhibiting companies are invited to submit relevant specialist equipment and technologies.
Announcing new product and service launches is possible even before the event with the information presented on our website and in the event catalogue.
Raise your brand's profile through our sponsorship packages encompassing networking, Keynote and Market Place presence and wider placement.
Increase brand awareness and generate business with sponsorship and advertising packages across the Official Show Catalogue, Official Pocket Guide and Floor Plan
With an initial submission date of 31 January for many of these opportunities, don't miss your chance to benefit.