Acumé Forensics are the UK's leading producer of Courtroom presentations and associated ancillary services. Such as 3D scene reconstruction animations and interactive games environments, including VR walk through of crime scene. CCTV capture, review, image analysis, editing and annotation. Audio and video enhancement and other forensic Imaging services. Expert in morphological facial identification, with over 150 cases in the last three years, assisting the court in both defence and prosecution cases including murder and terrorism. Acumé Forensics continue to take the lead in the courtroom presentation market, developing our own software solutions and apps for evidence treatment from disclosure, review to presentation. Currently producing and supplying solutions to 42 of the 43 UK Police Forces, Crown Prosecution Service, Ministry of Defence, HMRC, FSA, SOCA and HSE. Recommended by the National Crime Agency Help desk, One of five companies on the CPS framework for EPE (electronic presentation of evidence).
Address
Matrix House
Goodman Street
Leeds
West Yorkshire
LS10 1NZ
United Kingdom
Telephone
+44 (0)7980 974781
Website
www.acumeforensic.com
New Product Launch
Halo - Biometeric Custody Capture System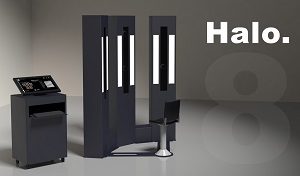 Designed primarily as a police custody imaging system, Halo is the next generation technology. Multiple high resolution cameras record the face from up to 8 different viewpoints with a further hand held camera for tattoos and scars located elsewhere on the body.
Rugged steel construction, custom made LED panels and the use of industrial machine vision cameras mean low maintenance and long life. Modular design means easy replacement with minimum downtime. Software is developed in-house allowing integration with existing systems and complete customisation. Operation is with an easy to use touch screen interface, also written in house, this can also be customised to suit requirements.
• Multi-camera recording of up to 8 viewpoints including 3x elevated views
• High resolution high quality images from all frontal angles
• Aids comparison to CCTV footage
• Ideal environment to record facial biometrics
• Modular construction for scalability and replacement
• Custom made long life LED lighting panels, up to 50,000 hours life expectancy
• Machine vision cameras for longevity and quality
• Software developed in-house allows complete customisation and integration
• Tough all-steel and laminated glass construction
The unique features of the Halo system make it the ideal environment for record­ing facial biometric data. The multiple facial viewpoints allow the machine learning algorithms to identify an individual in more detail than other systems. This allows Halo to recognise an individual previously recorded in the system to be identified automatically. It is the perfect recording system for identification of individuals on CCTV footage and for input into existing facial recognition systems.
Back to Exhibitor List