Advanced Tactical Resources (ATR) Ltd is a security focused company specialising in security solutions and consultancy suitable for all areas of industry. Our solutions comprise of specialist products (including digital forensics, tracking, canine, audio and camera products) training and services that are market-leading, proven and supported by a wealth of experience from a range of environments by our staff who are passionate about delivering real value.The combination of ATR Ltd.'s varied experience and unique range of solutions means that the client is consistently provided with an excellent and reliable solution to their security concerns.
Address
The Barn
c/o Lower Hitch
Whitchurch Hill
Berkshire
RG8 7NU
United Kingdom
Telephone
+44 (0)7548 964628
Website
www.atr-ltd.co.uk
New Product Launch
K9 Stun Muzzle – "THOR"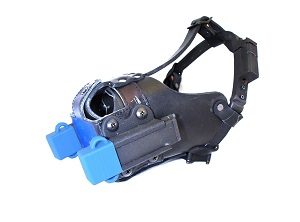 Ram Muzzle - The "THOR" muzzle is a K9 Ram Muzzle design incorporating the highest standards of craftsmanship and is equipped with a leather-covered steel bar for extreme agitation work. The muzzle has an optional padded upper-nose area which prevents rubbing and provides maximum comfort.
Stun Capability - When the ram muzzle approach is insufficient to subdue the target, the handler can remotely ignite two independent electric stun devices located on either side of the muzzle. The stun devices are designed to shock on contact and are quite efficient at producing shock that will cause enough pain and discomfort to discourage a physical attacker(s) from further aggression. The system also comes with a training cap set, this allows the handler to train with the K9 and victim without the chances of anyone being hurt.
The systems' remote controller can be worn in multiple ways and turns the system on, turns the stun guns on/off, and controls the electronic collar release. The wireless connection operates at extended distances and obstacles. Each remote and muzzle have their own frequency and are numbered/paired together to assure each handler doesn't affect the other during a mission.
Back to Exhibitor List