ATG Access is a world-leading manufacturer of security bollards and vehicle barrier systems, currently exporting to over 42 countries worldwide.ATG prides itself on engineering excellence and driving security product innovation. As a result, ATG's portfolio of impact tested and certified products are the widest in the industry.Physical security solutions have been developed and certified for an extensive range of foundation designs, for permanent or temporary security, differing site scenarios & aesthetic requirements. Solutions can also be integrated into street furniture designs or fitted with sleeves to ensure that security measures are not imposing. This year, ATG Access has innovated a unique, surface mounted, temporary security system which has been designed and tested to protect against the emerging 'vehicle as a weapon' attack. The system is revolutionary in design and functionality. The technology will be showcased at the Security & Policing exhibition – Stand A38.
Address
CoBaCo House
North Florida Road
Haydock Industrial Estate
North Florida Road
Haydock
Merseyside
WA11 9TP
United Kingdom
Telephone
+44 (0)1942 407735
Website
www.atgaccess.com
New Product Launch
Surface Guard System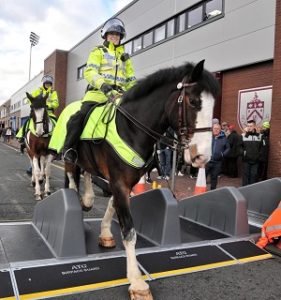 ATG Access has developed the Surface Guard system for the purposes of temporary event protection. Supplied in individual, lightweight modules and able to be stacked making transportation and storage very easy. The system is compact, robust and easy to install. Installation can be achieved across one standard road width with kerbs in just 40 minutes with four men. No fork lift truck assistance is required.
The system is modular; completely surface mounted and incorporates a number of innovative features which allows its deployment from lightweight vehicles in a very short period of time. Many different site scenarios can be accommodated within a Surface Guard deployment.
This innovative system can cope with road cambers and changes in levels as a result of kerbs or central reservations. The system has been designed to be aesthetically pleasing and to avoid an 'unfriendly' or menacing feel.
The Surface Guard units allow pedestrian, wheelchair, buggy and cyclist access. An emergency vehicle access point can be added to fit within a standard array.
6-10 units can be stacked flat on one normal sized pallet for easy transportation and storage. This also reduces the number of delivery vehicles required to secure a road width in comparison to more traditional barriers such as concrete or steel blocks. All units can be man handled removing the need for forklift truck assistance.
Back to Exhibitor List