Attenti Electronic Monitoring is a global provider of leading presence and location verification technologies, designed for monitoring individuals within the criminal justice system. The integration of Attenti systems in a variety of criminal justice applications is proven to be cost effective and reliable. The Company's strategy is to focus on the provision of superior technology solutions whilst collaborating with prominent local business partners to ensure the optimised distribution and service of its systems worldwide. Attenti systems are used by government agencies and private operators throughout Europe, Latin America, the Middle East, the Pacific Rim and the U.S.A. Attenti brings its customers and partners over 20 years of industry experience and technology expertise.
Address
Venture House
Arlington Business Centre
Bracknell
Bracknell
Berkshire
RG12 1WA
United Kingdom
Telephone
+44 (0)7808 781945
Website
www.attentigroup.com
New Product Launch
TD4i GPS Offender ankle tag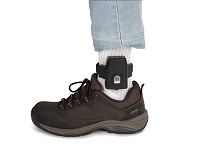 In addition to the existing range of One & Two-Piece GPS tracking systems, Attenti is excited to be launching the TD4i GPS tag at Security Policing 2018. This is the latest version of the family of Attenti One-Piece GPS tags to be released. It is an enhanced version of the tried and tested Gen 3.9 tag which is in use on thousands of offenders globally. The form factor is identical to the current Gen 3.9 tag and is fully compatible with the intuitive Attenti monitoring application.
The new tag has electronic, enhanced jamming and spoofing capability, it utilises fast data communication modems to give maximum coverage. In addition, the tag will provide a more accurate position in the absence of GPS using triangulated Location Based Technology.
Changes to the internal circuit design bring enhanced resistance to knocks on the already very robust Gen 3.9 design. The tag also has an extended radio frequency range which may prove useful when the home beacon is installed in a hostel or larger building and will enhance remote detectability for the new mobile officer units.
For higher risk offenders both devices can be installed with cut resistant straps and be switched to active/hybrid monitoring mode providing near live monitoring.
Come and see us at stand E69 for further information and a demonstration.
Back to Exhibitor List