At Disklabs, data is our business. Our products and services help our clients solve and prevent crime.The UK's 'original Disklabs faraday bags' are used to shield digital devices from the battle field to the boardroom in over 80 countries. Our Faraday Bags, guarantee the security of evidence, protect important files and safe guard key information during transit. Whether it is on a mobile phone, tablet, laptop or key fob, we are the number one provider of active RF shielding. Our expert digital forensic services team are passionate about speeding up the processes of evidence recovery whilst maintaining quality and accuracy. Operating from a state of the art facility, Disklabs has over 20 years' experience in digital forensics, data recovery and data erasure. We specialise in providing services to law enforcement, security agencies and corporations, in the recovery of data and forensic investigations.
Address
Disklabs House
Galena Close
Tamworth
Staffordshire
B77 4AS
United Kingdom
Telephone
+44 (0)1827 50000
Website
www.disklabs.com
New Product Launch
Small Laptop Shield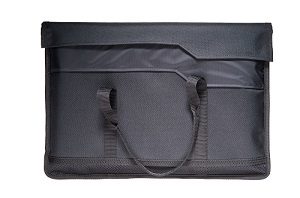 The NEW Disklabs 'shielded small laptop bag' is helping to secure the mobile workforce.
We have entered the age where mobile devices provide all the tools and technology to enable employees to work away from an organisations principal location. Workplace flexibility is increasing year on year with significant benefits in efficiency and convenience, however, this change in culture is also introducing new and growing risk to networks and data.
Not many of us would leave a device unattended or unlocked in an unsecure environment, however physically carrying or using a computer or phone is no guarantee that the device is secure and not at risk from unauthorised intrusion.
The New Disklabs laptop bag incorporates faraday shielding which will significantly reduce the risk of data theft and unauthorised tracking in the mobile workforce.
Back to Exhibitor List