Foster + Freeman are innovators in the design and manufacture of systems for the examination of questioned documents, latent fingerprints, trace evidence and shoe prints. Established in 1978, Foster + Freeman has become one of the foremost forensic science equipment suppliers in the world, exporting market leading and in many cases, unique products to more than 170 countries.Our products are designed to assist in finding evidence at scenes of crime and in performing detailed forensic investigations in the laboratory. Our customers include all major police and forensic science laboratories as well as government agencies, commercial and private organisations such as homeland security, immigration authorities, security printers, lottery companies, insurance companies, university departments and national libraries.With offices in the UK and the USA and a global network of agents and distributors, Foster + Freeman are able to provide customers with a high level of technical support, installation and training.
Address
Vale Park
Evesham
Worcestershire
WR11 1TD
United Kingdom
Telephone
+44 (0)1386 768050
Website
www.fosterfreeman.com
New Product Launch
VSC®80i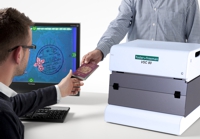 Introducing the VSC80i Document Examination Workstation for the Fast, Effective Examination of Travel & Identity Documents.
Advanced forensic-level technology, simply controlled. The VSC®80i provides a complete solution to the comprehensive examination of secure travel and identity documents including passports, ID cards, visas, entry permits, and driving licenses etc.
Ideal for high security, fast-paced environments including air, land and sea ports, immigration controls, and border crossing points etc. the VSC®80i re-writes the rulebook for high-level document examination by enabling the operator to interrogate documents with forensic precision via an intuitive touchscreen interface that improves processing speed and efficiency.
A fully integrated workstation, that does not require an additional PC, the VSC®80i builds upon the industry-leading VSC technology that is used by forensic document examination professionals worldwide, to provide a powerful solution for the detection of counterfeit and altered documents.
Detect Fake and Counterfeit Documents
- Inspect documents under high magnification
- Authenticate passport & ID card security features
- Observe documents under UV-Vis-IR light sources
- Compare suspect with genuine documents
Forensic-Level Technology, Simply Operated
- Intuitive icon-driven software interface
- Semi-automated examinations
- 'One-Click' activation of examination routines
- Fully integrated system - No PC required
Back to Exhibitor List