Observant Innovations is a British company that designs and manufactures innovative solutions to surveillance challenges.Observant manufactures a range of 'smart' cameras which incorporate novel optical arrangements to achieve undistorted continuous 360° surveillance.Observant's catadioptric cameras use a customised mirror and lens, coupled with a very high resolution image sensor, to achieve a panoramic 'look-out' gaze, ideal for applications where the surrounding visual context needs to be captured, as well as the immediate field of interest.PATROL: 'Body worn video for vehicles'The PATROL vehicle mounted camera captures and presents a panoramic history of the scene for 'real-time' or subsequent contextual understanding and analysis.SENTRY: 'Persistent over watch, in all directions, all of the time'The SENTRY surveillance camera is a pole, mast or building mounted variant of the PATROL, designed as an IP camera to fit into typical CCTV infrastructure.
New Product Launch
SENTRY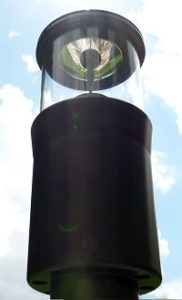 The Observant SENTRY Camera System is a 360 degree panoramic IP video camera.
SENTRY enables high-resolution visual documentation of everything occurring in the vicinity, ensuring that nothing is missed. SENTRY is designed to fit seamlessly into standard CCTV infrastructure.
SENTRY has a "lighthouse" Field of View with no blind spots in the surveillance area of interest. With a single camera and using innovative technology, SENTRY visually documents the entire scene giving investigators the ability to recreate the operational environment and context post incident.
SENTRY can be used as a "nest" of up to 4 virtual PTZ cameras through an ONVIF compatible Video Management System, or through Observant's own monitoring and reviewing software.
FEATURES
• 360 degree panoramic imagery
• Up to 4 HD virtual PTZ views
• IP connectivity
• 18 Mega Pixel sensor
• ONVIF PTZ compatible
• Web browser access for non-ONVIF deployments
• Streaming H264 (including VR format)
• Powered by PoE
• Image archiving
• Analytics 'Ready'
• Rugged, IP67 form factor
• No image distortion or 'stitching'
ADVANTAGES
• Captures everything, in all directions, all of the time
• Built to withstand tough environmental and usage conditions
• Assists situation reconstruction
BENEFITS
• Greater impartiality
• Improves understanding
• Generates public reassurance
• Supports accountability
• Improves performance
• Aids dispute resolution
Back to Exhibitor List