Panoptech is a multi-faceted security solutions provider offering consultancy, services and access to a stable of products which are changing the fabric of the law enforcement and counter-terrorism surveillance arena worldwide.
Address
Cedar House
Ancells Road
Ancells Business Park
Fleet
Hampshire
GU51 2UN
United Kingdom
Telephone
+44 (0)1252 812055
Website
www.panoptech.co.uk
New Product Launch
Orbital - Virtual Briefing and Mapping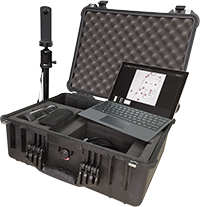 Orbital is a portable survey deployment kit. It facilitates the creation of immersive 360 degree walk-throughs of different floors/levels associated with a particular site of interest.
Additional detail can be quickly added including textual content and high-resolution still images, simply linked together through an intuitive Graphic User Interface (GUI).
Post capture, detail can be easily and quickly re-aligned, re-positioned and linked, reducing the initial time required on site.
The resulting walk-throughs can be used to brief teams and facilitate planning prior to a technical deployment or tactical insertion. Users can drill down into floors and then into walk-throughs or close-ups of specific areas of interest with annotations added where appropriate.
Back to Exhibitor List