SystemWare Europe has supplied products and services to the UK and European MoD and government arena for over 15 years. This includes sale and support of innovative dynamic solutions for Technical Surveillance Countermeasures and Mobile Network Counter Surveillance.We feel it is important to offer our customers bespoke tailored products and solutions for maintenance, technical advice and support. Understanding our customer's requirements allows us to design, develop and enhance existing COTS and MOTS products, to fit their needs.At this year's exhibition we will be demonstrating our latest leading-edge Signal Acquisition and Analysis solutions. Our products offer compact, remotely controllable RF signal detection from 1kHz to 70GHz delivering cutting edge capability and performance. Our scalable hardware and software capabilities allow customer specific tailoring to meet requirements. We will also be exhibiting a range of other security products on the stand.
Address
Phoenix House
2 Phoenix Park
St Neots
Bedfordshire
PE19 8EP
UK
Telephone
01480 478770
Website
www.sysware-europe.com
New Product Launch
Spectrum Guard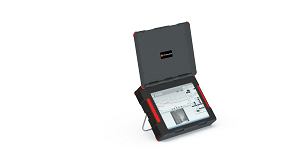 Spectrum Guard combines hardware and software components into a portable Radio Frequency (RF)
detection and monitoring system that is small, lightweight and easy to use. The software application interface is
designed so a user with minimal RF knowledge can operate it, but also provides all the tools an experienced operator expects.
Spectrum Guard is intended for use by professionals for RF signals tests and measurements, spectrum management and laboratory applications. It is ideal for use by Wi-Fi and cellular providers performing signal strength verification, or identifying unlicensed transmissions. Whether performing security services, or Compliance testing, Spectrum Guard's intuitive software design will meet your current and longterm
mission needs.
Back to Exhibitor List