Thinklogical manufactures secure video distribution systems (VDS) and KVM (keyboard, video and mouse) signal extension and switching products for video-rich applications including C4ISR, command and control, UAS operations, simulation, visualiation and training. Thinklogical provides the only IA-accredited KVM extension and switching system certified to manage multiple classifications of information through a single switch, eliminating the requirement to air-gap multiple networks at the user workstation and increasing cyber security. True "any-to-any" switching of video and computer data is possible in command and control applications, providing instant situational awareness and reducing IT infrastructure and cost. Supporting all common AV and IT formats including 4K video, Thinklogical KVM extenders and matrix switches provide uncompressed, high-bandwidth signal management with no computer peripheral latency or loss of video quality. Thinklogical products are accredited to Common Criteria EAL4, NATO NIAPC Evaluation Scheme: GREEN, TEMPEST SDIP 27 Level B and the U.S. DoD JITC UCR APL 2013.
Address
Manchester International Office Centre, Suite 13
Styal Road
Manchester
Lancashire
M22 5WB
United Kingdom
Telephone
+44 (0)7496 602627
Website
www.thinklogical.com
New Product Launch
Thinklogical TLX Virtual Desktop Integrated Client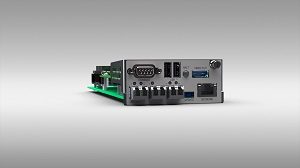 Create more secure, productive and higher performance VDI (virtual desktop initiative) systems using Thinklogical video and KVM extension solutions with integrated client machines. Efficiently "back rack" client virtual machines and high end graphic computers, while providing flexible, secure and high performance user access through Thinklogical extension and switching systems.
For security, productivity or performance reasons, many customers typically store their physical VDI client machines in a secure IT space (back-racking), providing user access to the machines through KVM extension systems (transmitters and receivers). Thinklogical now offers a KVM extender (transmitter) module with an integrated client machine. The integrated client machine can host standard VDI client software, including those produced by VMware®, Citrix®, Microsoft®, etc.
With Thinklogical's integrated client machine, the customer no longer requires separate VDI client machines; rather, they connect the VDI servers directly to the Thinklogical transmitters, saving as much as 50% of the space previously required for the client machines and transmitters in the rack room.
Back to Exhibitor List