Towcester Research is an independent technology company specialising in design and manufacture of Thermal Imaging Systems. We offer hand-held Thermal Surveillance and Thermal Weapon Sights incorporating our proprietary TapIR shutterless Thermal Imaging Engines which are also available for OEM products. We use the latest ULIS Gen2 detectors for maximum performance and, as we own all of the remaining technology, we are well placed to offer timely and responsive support from within the UK.The CrosswIR 640 Thermal Weapon Sight is suitable for full power rifles whereas the new compact and lower cost CrosswIR 384 is particularly suitable for pistol calibre weapons. Due to our engineering expertise, technology ownership and flexible manufacturing processes, we are able to configure products to suit customers' particular operational needs and challenges.
Address
183a Watling Street West
Towcester
Northamptonshire
NN12 6BX
United Kingdom
Telephone
+44 (0)7979 014173
Website
www.towcester-research.co.uk
New Product Launch
CrosswIR 384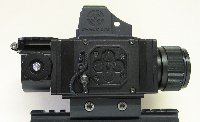 The Towcester Research CrosswIR 384 Thermal Weapon Sight operates in the Long Wave IR band and uses the advanced shutterless TapIR 384 thermal imaging engine containing the latest ULIS Gen2 384x288 pixel uncooled detector for maximum performance. The CrosswIR384 is free of US ITAR restrictions.
The 18mm f/1.0 Germanium lens provides excellent DRI performance combined with low weight and compact dimensions. The housing is machined from aircraft grade Aluminium and Nitrogen purged to remove moisture, a standard STANAG 4594 mount is provided. Alternative mountings can be ordered and a mounting kit for a Shield CQS or Shield Mini red dot sight is also available.
The glass eyepiece and colour OLED viewfinder display has excellent clarity and eye-relief and incorporates a wide range dioptre adjuster. Selectable reticules and pictorial user interface symbols are normally shown in colour over greyscale image, custom reticules can be provided and twin reticules can be selected for single-shot zeroing. A clip-on version which fits in front of a standard day sight is also available.
Back to Exhibitor List