Want a secure, reliable IP connection between vehicles, temporary sites and offices ?With a Viprinet® multichannel VPN router™ you can instantly deploy secure, mission-critical network connectivity virtually anywhere.Viprinet bonds multiple internet connections like 3G, 4G, Wi-Fi, satellite and fixed lines. Typical applications include the secure transmission of real-time video, audio and data between vehicles and a command and control centre, using several 4G mobile broadband networks. Viprinet aggregates the bandwidth from any available network or access media, providing superior throughput and reliability with 256 bit AES encryption on each individual WAN.Viprinet multichannel VPN routers – which are designed and manufactured in Germany – are already used in the critical infrastructure of government agencies and major utility companies. Wired Broadcast Ltd, the exclusive UK distributor for Viprinet, provides sales, consultancy, support and training, and manufactures its own rugged, battery-portable device based on Viprinet technology – Mediaport R.
Address
Berol House
25 Ashley Road

London
N17 9LJ
United Kingdom

Telephone
+44 (0)20 3376 7710
Website
www.wiredbroadcast.com
New Product Launch
Mediaport R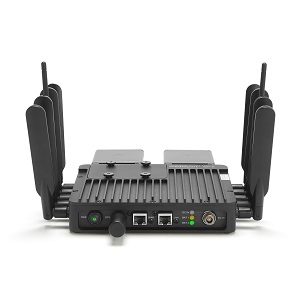 Secure, resilient connectivity. Deploys in seconds.
Mediaport‐R provides secure, fast, reliable IP connectivity between tactical teams and control rooms, in mobile scenarios and harsh environments. Mediaport‐R bonds up to four 3G/4G mobile broadband connections (along with cabled broadband or satellite
where available). By employing RAID‐type distributed forward error correction, diverse routing and 256 bit SSL/AES encryption, Mediaport‐R creates a highly secure and resilient private network using just consumer access media. Mediaport‐R operates continuously using hot‐swap AN/PRC batteries ‐ and can be deployed in seconds.
● Bonds 4 x 3G/4G (LTE) and 1 x GB ethernet (for satellite, DSL, Wi‐Fi etc)
● Portable, ruggedised enclosure (18.6 x 15.4 x 4.4cm, 1.2kG exc. batteries)
● Up to 12 hours use with 2 x hot‐swap MBITR AN/PRC148 batteries
● External 12‐24V DC on Lemo with UPS functionality
● WAN/MNO agnostic, with 256 bit SSL/AES encryption on each link
● GB Ethernet LAN, 2.4/5GHz WLAN, GPS
Back to Exhibitor List