DEM SOLUTIONS was founded in 2013, by professional technicians working in this field for 20 years. Our company projects, develop and manufacture high-tech systems inside its own laboratory, using the latest available technologies in the field of microelectronics and telecommunication. Our team are composed of high skilled technicians, sales specialists and a network of professional dealers and re-sellers covering a large part of the world. Our systems are dedicated to LE and governmental agencies, including a wide range of technologies for audio and video monitoring, based on UMTS/LTE, radio frequency, GPS, as well as customised solutions.
Address
Giuseppe Piazzi Street
Turin
Piedmont
10129
Italy
Telephone
+39 3921 780 314
Website
www.dem-solutions.it
New Product Launch
WAVE 4G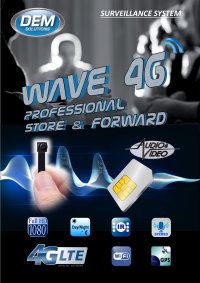 Wave4G is a Video&Audio store&forward unit, stereo, miniaturized and has been developed for covert surveillance.
This unit is able to perform video surveillance in streaming mode, as well as recording video at high resolution, thanks to interchangeable microcameras, 5Mpixel, allowing to optimise the video surveillance operations. The audio features allow the live listening in streaming and the stereo recording at high quality, thanks to ADC 24bit with sampling rate up to 48Khz, low noise and highdynamics.
The GPS feature enable to know the position of the unit Wave4G, so to detect the unit when installed on a vehicle, and/or combine the GPS position to the video-audio surveillance document survey.
The Live streaming mode connection and the download of the files Video/Audio/GPS are possible connecting to
the mobile networks 4G-LTE and 3G-UMTS, using a Micro-SIM Card enabled for data traffic (SIM card not supplied).
Besides, it is available the connection through Wi-Fi band 2.4Ghz, so to use the unit Wave4G on a Wi-Fi existing net
and, in case, manage and relaunch live data and recording through a Ddns service, set by an own Router.
Back to Exhibitor List