ODU Group: Global representation with perfect connectionsThe ODU Group is one of the world's leading suppliers of connector systems, employing 1,650 people around the world. In addition to its company headquarters in Mühldorf am Inn (Germany), ODU also has an international production and distribution network throughout Europe, North America and Asia. ODU combines all relevant areas of expertise and key technologies including design and development, machine tooling and special machine construction, injection, stamping, turning, surface technology, assembly and cable assembly. The ODU Group sells its products globally through its eight subsidiaries in Denmark, England, France, Italy, Sweden, the US, China and Japan, as well as through numerous international sales partners. ODU connectors ensure a reliable transmission of power, signals, data and media for a variety of demanding applications including medical technology, military and security, eMobility, energy, industrial electronics and measurement and testing.
Address
Unit 3A
Whitworth Court
Manor Park
Epinal Way
Runcorn
Warrington
WA7 1WA
United Kingdom
Telephone
+44 (0)3300 020640
Website
www.odu-uk.co.uk
New Product Launch
ODU THREADED CONNECTOR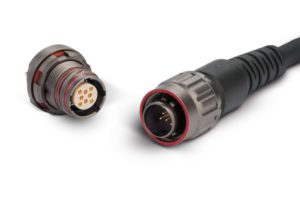 ODU Connectors to preview new development
In the UK, ODU are probably best-known as long-term suppliers on the Bowman defence programme, providing over 100,000 headset 'snatch' connectors - without a single reported operational failure.
The AMC® [Advanced Military Connector] is a rugged push-pull circular connector, developed to link the high-technology equipment of the combat soldier.
It includes high-density signal configurations and versions for combined signal & power, as well as high performance data transmission, high band-width, high reliability and easy handling in harsh environments - all in a very compact package.
Now, in response to the specific needs of some customers, ODU have developed a new screw-locking version the AMC® - intended to withstand high-vibration levels.
According to MD Nick Harper "This exhibition gives us the perfect opportunity to offer our customers a sneak preview of yet more technology transfer to meet the specific operational needs of security and policing".
Back to Exhibitor List