PDA provide a variety of countermeasure equipment for government, military and law enforcement use only. This year, the company is showcasing the latest additions to its drone protection system called REPULSE™ including its new pocket-sized drone detector. The low powered Repulse™ units can be used to shield establishments, military bases, airfields and other sensitive areas from any commercial drone penetration, yet each unit has an effective range exceeding 1.5km over a 160° area. As the system forces a drone to invoke its return home feature, the system can be safely used in dense urban areas. The low powered emissions have been shown to cause no interference on nearby WIFI systems and airfield navigation systems. The company also designs and manufactures other cellular countermeasure equipment and detection for police and law enforcement agencies and are widely used in prisons throughout Europe.
Address
Cairn House
Elgiva Lane
Chesham
Buckinghamshire
HP5 2JD
United Kingdom
Telephone
+44 (0)1494 257911
Website
www.pdaelectronics.com
New Product Launch
SPi-24 Drone Detector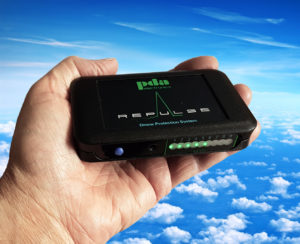 ■ Scans all activity from 2400 - 2485 MHz
■ Detects video signals from commercial drones at a distance of approximately 2km away.
■ Visual LED bar-graph indicating signal strength level
■ Audible indication of a detected signal / drone via 3.5mm stereo connector (only mono available). Unused contacts used triggering other warning devices.
■ Internal rechargeable battery - approx. 12 hours operation
■ USB C port – for interfacing & automatic triggering of other equipment such as Repulse.
Back to Exhibitor List