Trinity is a research and development/production company providing innovative solutions to government and military agencies around the world. We have mechanical, electronic and software capabilities all in house. We are based on the Essex/Suffolk borders in secure premises. All staff are minimum SC cleared. Our team of engineers have a wide spectrum of skills, we can take a project from concept to prototype onto full production. We are the home of the MMP Power solutions range and the MediaBox Forensic tools.
Address
Building 275
MDPGA Wethersfield
Wethersfield
Essex
CM7 4AZ
United Kingdom
Telephone
+44 (0)1371 851197
Website
www.trinityw.com
New Product Launch
MMCP18 and MMCP36 Rechargeable Power Solutions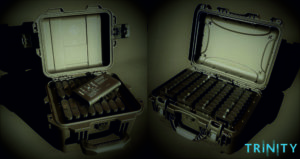 Welcome to our two new rechargeable battery enclosures, these are unique as in they are rechargeable and refillable, utilising commercial li-ion battery packs the MMCP18 and the MMCP36 are extremely versatile and most importantly intelligently safe. The MMCP18 takes 18 cell packs giving 124Ah and the MMCP36 using 36 cell packs has a capacity of 248Ah @ 14.4Vdc.
The cell packs themselves are fully tested for transport under UN38.3, they are also sub 100Wh and the enclosures come complete with the ability to transport the cell packs fully isolated. The cell packs themselves are available worldwide and are not tied to Trinity.
The flexibility of the pack allows onboard charging of each individual cell pack, but you can also have spare packs charged and ready to go, easy to swap out. Each pack is individually monitored and individually serialised so we can monitor cell ageing and recharge cycles.
The enclosure has full safety monitoring of charge, discharge, capacity, temperature, humidity, pressure and has a low voltage safety cut off to prevent deep discharge. The cells are also reverse polarity protected.
The enclosure is a full IP67 rated enclosure and connectors can be tailor made to suit each individual customer. A small e-ink display gives continuous information of the state of the pack.
With over 300 cell cycles, these packs are extremely cost effective, estimated at only £11 per deployment for the MMCP18 and less than £20 per deployment for the MMCP36.
Visit our stand for more info.
Back to Exhibitor List