Amphenol has a diversified presence across eight high-growth segments of the electronics market: Military, Commercial Aerospace, Industrial, Automotive, IT Datacom, Mobile Networks, Mobile Devices and Broadband. Our goal is simple – to develop leading technologies that enhance the performance of our customers' products, systems and networks. Our products enable virtually all electronics systems, from sophisticated military communications systems to the latest mobile computing platforms, from next-generation airliners to advanced automotive electronics, from vast data centres to internet-connected devices, and from high-speed trains to the latest wind turbines.We are especially excited by our latest solutions in the many new markets that continue to emerge, including next-generation electric and autonomous vehicles, advanced battery storage systems, alternative energy generation, enterprise data centres and wearable consumer devices.
Address
Amphenol LTD
Thanet Way
Whitstable
Kent
CT5 3JF
United Kingdom
Telephone
07720419560
Website
www.amphenol.co.uk
New Product Launch
Micro-SD Card Reader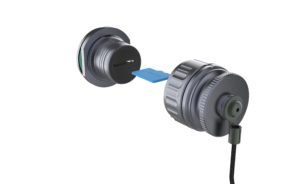 Amphenol's rugged Terrapin series is now available with a Micro-SD card reader that combines proven IP68 sealing and ruggedized connector protection for off the shelf Micro-SD cards.
Simply insert the card into the panel mounted reader, fit the cap and lock in place. The card is sealed and protected until removal.
The Terrapin series offer well proven performance in harsh environments and is used extensively for handheld equipment, C4iSR communication, video and data collection devices.
Back to Exhibitor List