Argon training simulators enable leading Security and Police / Law enforcement and CBRN / HazMat agencies and the military in the UK, USA, Canada and many other countries deliver safe, cost effective, enhanced CBRN training by simulating contamination, decontamination, local search and large area survey / recon scenarios while monitoring student activity.Our product range which includes simulators for the Smiths Detection LCD3.2E, LCD3.3, Bruker RAID M100, Proengin AP4C, Thermo RadEye, FH40G, Mirion UDR-14 and PlumeSIM, Argon's Virtual Table Top and Live field exercise CBRN / Hazmat training system enable you to deliver the highest quality classroom and field learning outcomes for your response teams to help ensure optimal operational readiness. For further details visit www.argonelectronics.com
Address
16 Ribocon Way
Progress Business Park
16 Ribocon Way, Progress Business Park
16 Ribocon Way, Progress Business Park
Luton
Bedfordshire
LU4 9UR
United Kingdom
Telephone
+441582491616
Website
www.argonelectronics.com
New Product Launch
Rad Eye Radiation Training simulator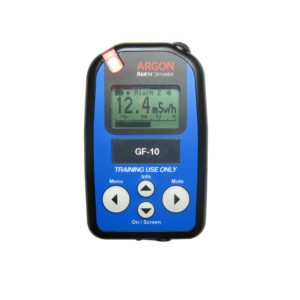 Argon's RadEye™ series radiation training simulators enable high and potentially lethal reading dose and dose rate exercises to take place in complete safety without using harmful ionizing radiation sources. RadEye-SIM responds to safe, environmentally friendly simulation radiation sources that enable you to implement suspect container, vehicle checkpoint, search and survey exercises with ease. Even the effect of user body shielding to determine source position is realistically simulated so you can be certain your survey teams understand how to use and interpret their detector readings and alarms effectively.
Extremely realistic inverse square law response allows the powerful protective combination of distance and shielding to be demonstrated enabling students to practice safety procedures and communication of recommendations without the regulatory, safety, environmental and cost restrictions associated with real sources.
Using Argon's latest generation gamma simulation technology, users can now for the first time now experience lifelike radiological training exercises in almost any environment and experience a wide variety of life like scenarios including sources hidden in crates, vehicles and personal back packs.
RadEye simulators are compatible with PlumeSIM™, Argon's proven Live Field and Tabletop CBRN exercise system. In use by many of the world's leading training facilities, PlumeSIM enables real time instrumented wide area tactical field and nuclear / HazMat / Chemical Warfare emergency response exercises to be conducted using single or multiple simulation device types that respond in the real time to simulated hazards.
RadEye is a trade mark of Thermofisher, PlumeSIM is a trade mark of Argon
Back to Exhibitor List