Frontier Pitts is the Award Winning British Manufacturer of Security Gates, Automatic Barriers, Roadblockers, Rising and Static Bollards, Pedestrian Control Gates and Turnstiles. Our Anti Terra Hostile Vehicle Mitigation (HVM) range includes the complete range of Terra Gates, Terra Barriers, Rising/Retractable and Static Terra Bollards which has been successfully IWA14 and PAS68 impact tested to a range of energies. Our LPS1175 Terra Diamond Turnstile complements the range with high security Pedestrian Control. Our Platinum Range includes Automatic Security Gates and the Platinum Turnstile all tested to LPS1175 B3/SR2/3. This includes the first Bi-folding Gate in the World to be intruder resistant to LPS1175 Security Rating 2 & 3. From the United Kingdom headquarters in Crawley, Sussex, Frontier Pitts can provide a complete range of services including design, site surveys, manufacture, installation and National Breakdown Service, Maintenance Contracts and Spares.
Address
Crompton House
Crompton Way
Manor Royal Industrial Estate
Crawley
West Sussex
RH10 9QZ
United Kingdom
Telephone
+44 (0)7931 703214
Website
www.frontierpitts.com
New Product Launch
IWA 14 HVM Terra Bi-fold Gate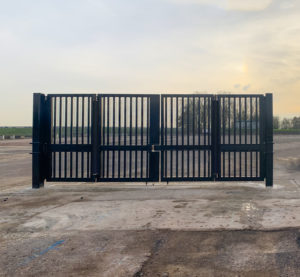 IWA 14 – 7.2t @ 30mph
Introducing the latest Terra Bi-folding Speed Gate which has been successfully impact tested
to the International IWA14 Specification, stopping a 7.2 ton vehicle travelling at 30mph (48kph).
**** Unique to the market this double leaf HVM Bi-folding Gate impact test resulted in minimal penetration ***
This HVM Bi-fold Gate is the perfect solution for any building or perimeter fence line bringing together Hostile Vehicle Mitigation protection from the threat of VBIED's (vehicle borne improvised explosive devices) and LPS1175 Security Rated Automatic Gates.
Manual bi-parting pair of bi-folding gate leaves with heavy duty impact crash beam and heavy duty support posts. Hinged Gates leaves can be automated with our range of Trojan Actuators or Dutyman Actuators. Please contact the Technical Sales Department on 01293 422800 or sales@frontierpitts.com for more information.
Designed for easy installation and maintenance.
The Terra Bi-fold Gate can be interfaced to any access control systems.
Back to Exhibitor List