iStorage – trusted global leader of award winning PIN authenticated, hardware encrypted storage and cloud encryption devices, which securely protect sensitive data to military specified encryption levels. iStorage is the world's first and only vendor to attain government certifications on the diskAshur PRO²/ diskAshur DT² HDDs/SSDs with FIPS 140-2 Level 2/3, NCSC CPA, NLNCSA BSPA and NATO Restricted level.Introducing cloudAshur, a revolutionary cloud encryption data security module, allowing users to securely Encrypt, Share & Manage their data in the cloud. With a unique Common Criteria EAL4+ Ready secure microprocessor, cloudAshur won 'Security Innovation of the Year' at the 2019 UK IT Industry Award – visit Stand B96 to learn how to secure your data in the cloud.
Address
iStorage Limited
iStorage House
13 Alperton Lane
iStorage House, 13 Alperton Lane
Perivale
Middlesex
UB6 8DH
United Kingdom
Telephone
+44 (0)20 8991 6260
Website
https://istorage-uk.com/
New Product Launch
iStorage cloudAshur - Hardware Encryption Module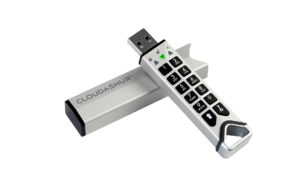 Over the years, cloud has become of great value to an organisation's IT infrastructure. So, how can an organisation shield their invaluable data from hackers gaining access, by taking advantage of security vulnerabilities to infiltrate the cloud? In response to this conundrum, iStorage has arduously worked to provide a solution.
In June 2019, iStorage launched cloudAshur - an ultra-secure PIN authenticated, hardware encrypted, cloud data encryption module. Using a hardware-based AES-XTS 256-bit encryption key that is securely stored on the cloudAshur device, it encrypts all data in transit and at rest. The device uniquely offers 5 factor authentication and grants the user full and secure control of the encrypted encryption key, hence protecting the data even if the cloud account is hacked.
cloudAshur allows users to:
• ENCRYPT data to ensure the ultimate lockdown of data stored both in the cloud and on-premise.
• SHARE encrypted data with authorised users in the cloud as well as via email and file transfer services in real-time (iStorage patented KeyWriter Software)
• MANAGE and monitor cloudAshur devices centrally (cloudAshur Remote Management Console).
Compatible with both PCs and MACs, cloudAshur works with numerous cloud providers including Amazon Drive, Google Drive, OneDrive, Dropbox, iCloud and many more.
Visit Stand B96 to see learn how cloudAshur could work within your organisation and to learn how to secure your data in the cloud.
Back to Exhibitor List