Keyline is an innovative company operating at a global level in a highly competitive field of the design and production of keys and mechanical and electronic key cutting machines. It is a leading player in the field of transponder car keys, focusing on new products and new service solutions for security specialists. Last, but not least, it is an Italian company, strongly connected to the territory, proud of its origins and its values of strength, passion and creativity in keys duplication. With the purchase of Keyline in 2002, the Bianchi family continued in its centuries-old traditional "key business" activity, started in 1770 by master locksmith MatteoBianchi and transmitted from father to son to the present day, with the valuable addition of the work of pioneering key duplication expert Camillo Bianchi immediately after the Second World War.
Address
via Camillo Bianchi 2
Conegliano
Treviso
31015
Italia
Telephone
3332889487
Website
www.keyline.it
New Product Launch
007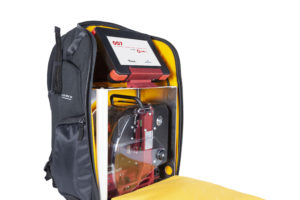 The tacticalel ectronic keycutting machine, portable and battery-powered. PATENTPENDINGITALY
The 007 machine is the only keycutting machine in the world that can duplicate all kinds of keys directly on site.
007 is the tactical key cutting machine, specifically designed to support the intelligence activities of government departments all over the world.Thanks to the battery power supply and the dedicated technical backpack, 007 is easily transportable. The backpack has been designed according to the size of the machine, so keys can be cut directly inside the backpack, which is perfectly soundproof.The portability, the unique 007 design and the ability to supply power with both a battery or power cable, allow key cutting directly on site and in even the most challenging working situations. Compact, light, silent and fast. 007 makes key cutting with maximum precision on the go. Stand-alone mode uses the new Keyline console X, which is fast, dynamic and user-friendly. Mobile-mode uses the new Keyline Duplicating Tool smart app with an Android smartphone or tablet, which communicates directly with the console, thanks to its simple and intuitive screens, 007 is compatible with the M-SCAN ultrasound system of Madelin S.A.
Back to Exhibitor List