Kinesense LE is the leading video analytics solution for police and law enforcement agencies globally. The easy-to-use interface allows investigators to get actionable intelligence fast; reducing time by up to 95% compared to manually viewing video and resulting in huge cost savings.At S&P 2020 we will be introducing several new reporting features and search functions to Kinesense LE video investigation platform that will further enhance the reputation as the No.1 solution for helping police solve major crimes.We will also be launching Kinesense DEM, the new Digital Evidence Management System which enables police and government agencies to upload, store, manage and share all digital files and evidential case material quickly and securely amongst investigation teams, hierarchy and external agencies such as Criminal Prosecution, etc. Kinesense DEM will eliminate a lot of the playback issues that users currently experience with playback of proprietary video in other solutions.
Address
79 Merrion Square
Dublin
D2
TN27
Ireland
Telephone
+44 (0)20 7096 1550 / +44 (0) 7973 470786
Website
www.kinesensevca.com
New Product Launch
Kinesense DEM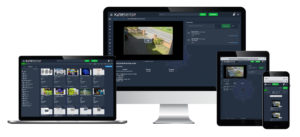 Kinesense's Digital Evidence Management (DEM) solution for police is designed to make assets and evidence management even easier. What makes the Kinesense DEM unique is that in addition to storing and securing all digital files including documents, audio, images, etc, it is designed to efficiently support ALL video, from CCTV, mobile phones, covert or body worn cameras. Securely store, quickly retrieve and share important assets to eliminate investigation delays and costs typically associated with the physical transfer of data between colleagues and the prosecution service.
Eliminate the costly physical transfer of video assets & evidence
With the Kinesense DEM solution, users can import video and all media files, add metadata and a reference to a case and share with colleagues and prosecutors alike. Users can log on to the system to search for videos using key metadata tags.
Easier collaboration
Users can review assets uploaded and bookmark key sections of videos and assign tasks or request feedback from colleagues. DEM logs all user access, enables assets to be shared on a restricted or open basis (subject to permissions) whilst the Dashboard gives Management full visibility.
Securely archive digital data
We have built the solution so that it can be hosted on the cloud (or on-premise) and being delivered as a Software as a Service (SaaS) solution means that the cost of entry is not prohibitive and expansion is more cost-effective and flexible. Most importantly, all assets including video are tracked and any actions take by personnel are logged ensuring a complete evidential trail.
Back to Exhibitor List