Observant produces innovative solutions to surveillance, monitoring and inspection challenges by providing visual context through very high-quality imaging systems. Based on our Imaging Workbench, APERTURE, Observant's solutions include:•Panoramic cameras which provide undistorted continuous 360° surveillance: PATROL, vehicle mounted, and SENTRY, mast or building mounted.•MONITOR, a family of static or vehicle mounted directional camera systems which enable continuous overview of operational spaces.•INSPECT, a high resolution inspection and measuring system which allows real-time 3D reconstruction. With our partner Level Five Supplies, a distributor and integrator of smart city solutions including remote, GDPR-compliant, 3D sensing, we combine imaging and LIDAR to provide AR enhanced situational awareness for surveillance and monitoring.With our partner Image Insight, Observant provides unique low cost radioactivity protection using existing surveillance cameras and smartphones, powered by GammaPix™ patented technologies. GammaPix allows law enforcement and military agencies to interdict acts of radiological terrorism, and first responders to manage radioactivity emergencies.
New Product Launch
ASPECT 3D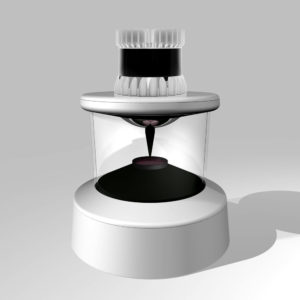 Aspect 3D provides real-time spatial panoramic imaging. It combines single image spatially accurate 360° imaging with active lidar.
Aspect 3D adds a completely new dimension to visual analytics, with accurate speed, height and volumetric data, and accurate meshing between camera and lidar.
Imaging and lidar data can be exchanged bi-directionally in real time with 3rd party analytic and deep learning applications and systems, so that operational or forensic applications are able to get and set camera and lidar system parameters such as regions of interest, zones, and scene tagging.
ASPECT 3D:
• True 3D depth enabled live panoramic 360° imaging using active lidar
• Real-time combined lidar and image data
• Captures everything, in all directions, all of the time
• Built to withstand tough environmental and usage conditions
• Assists situation reconstruction
• Improves understanding
FEATURES
• 360o, panoramic imagery
• Up to ± 45° vertical field of view
• High-quality mega-pixel images
• No image distortion or 'stitching'
• ONVIF PTZ compatible
• Streaming H264 (including VR format)
• Lidar Up to 2,621,440 points per second (128 channel)
• Data per point: range, intensity, reflectivity, ambient, channel, azimuth angle, timestamp. Available by pointing on the panoramic image and/or as an AR overlay
• Lidar range up to 240m
• Class 1 eye-safe 865nm laser
• Live frame rate 10 - 20 frames per second
• GPS NMEA data
• Image archiving with metadata tagging
• Powerful replay & review tools
• Simple integration with 'open' camera management systems
• Vehicle mounted or static options
Back to Exhibitor List