Shapes AI's award-winning technology analyses camera feeds using its human-like reasoning system to detect and predict key events in real-time. These include violence, theft, suspicious behaviour and more. Their breakthrough AI-based computer vision software needs just a fraction of the training data normally required and provides humans-interpretable explanations behind each inference. It requires no specialised hardware and can be deployed via the cloud, on edge or on-premise.
Address
Suite 216, Berkeley Square House
Mayfair
London
Greater London
W1J 6BD
United Kingdom
Telephone
+44 2032396949
Website
https://www.shapes.ai/
New Product Launch
Deep Visual Reasoning for Detecting Violence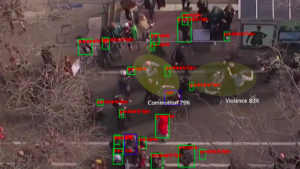 Shapes AI combines machine learning and computer vision to enable AI reasoning over visual data. We'll be showcasing our "Deep Visual Reasoning" technology which analyzes scenes to automatically flag pertinent activities and behaviors, shaping the future of smart cities and autonomous driving.
Our cutting-edge computer vision technology empowers machines to finally understand what they are seeing: Go beyond simple object detection and image recognition, gain actionable insights into events, activities, occurrences and overcome challenges in new and complicated domains.
Back to Exhibitor List