Based in London, UK, Wired Broadcast is an international leader in agile connectivity for mission-critical applications and a trusted provider of end-to-end broadcast and live event facilities and services. For more than 25 years, Wired Broadcast has served hundreds of influential clients in diverse industries worldwide, from broadcasting (BBC) and construction (RG Group), to banking (Royal Bank of Scotland), live events (Live Nation Entertainment), as well as security, policing, and defence.Wired Broadcast brings you multi-WAN technology and network expertise to create resilient and secure connectivity at remote locations and on the move. We manufacture ultra-portable and rugged Mediaport® routers and are distributors of agile connectivity solutions and a select range of companion technologies to create near-instant connectivity wherever you go.
Address
Berol House
25 Ashley Road

London
N17 9LJ
United Kingdom

Telephone
+44 (0)20 3376 7710
Website
www.wiredbroadcast.com
New Product Launch
Mediaport® SONJA™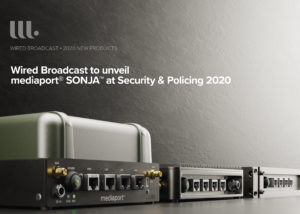 Introducing SONJA™, the newest member of the Mediaport® range by Wired Broadcast.
Mediaport® SONJA™ is a multi-WAN router with a potent combination of powerful features that enable resilient and secure connectivity for mobile command and control and tactical teams, without compromise: high-specification hardware, a multitude of ports including 4 x 4.5G (upgradable to 5G sub-6GHz), optimal SWaP, battery self-power, ruggedness, and security. SONJA is a COTS-based platform using trusted hardware and software from Europe and North America, with special features* that can be activated exclusively for government customers.
Mediaport SONJA enables mobile command centers, disaster control vehicles, and other decision-making units to easily deploy and maintain resilient secure communications from any location and while on the move. SONJA also gives field operatives agility and resilience in field-to-command-center communications by enabling reliable data links in any location. Supplement satellite for over-the-horizon communications, and easily conduct covert surveillance, thanks to optimal SWaP, all-weather ruggedness, onboard/built-in battery power, and special anti-tamper features.
KEY FEATURES
- Up to 8 simultaneous WAN connections (4 built-in 4.5G with FirstNet® band 14 support, 4 GB Ethernet WAN/LAN and 1 WWAN/WLAN assignable)
- Upgradeable to 5G (sub-6 GHz)
- Designed and built in the UK using trusted hardware and software from Europe and North America
- Nearly 1 Gbps capacity
- Three form factors for any deployment scenario: Integrated and Rugged (both lightweight and ultra-portable), and Rackmount, all with on-board/built-in battery power
- ARM TrustZone Secure Boot, secure authentication & encryption chip
*Contact us to discuss confidential features.
Back to Exhibitor List