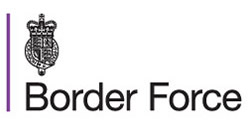 The United Kingdom's border controls are among the toughest in the world and Border Force plays a pivotal role in the fight against
terrorism, organised crime and illegal migration.
The UK border is a unique intervention point to stop terrorists, criminals and illegal migrants; harmful and illicit goods; and the cash which funds organised crime and terror. It provides an invaluable opportunity for us to protect the most vulnerable: exploited children and the victims of trafficking and human slavery.
Border Force is investing in new technology, like ePassport gates at airports and heartbeat monitors at freight ports, to improve security and prevent illegal entry to the UK to improve security, benefit passengers and deliver efficiencies.