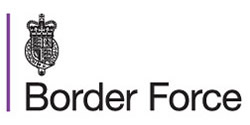 Border Force is a law enforcement command within the Home Office. We secure the UK border by carrying out immigration and customs controls for people and goods entering the UK and play a pivotal role in the fight against organised crime, terrorism and illegal migration.
We are an integral part of UK law enforcement, and are increasingly recognised as a key player in the national security agenda and a world leader in detection of prohibited goods in the vehicle, freight, air, maritime and container environment.
Specialist officers deliver world class high-quality capability in advanced search and targeting skills and offer an extensive portfolio of practical anti-smuggling training to share with domestic and international law enforcement partners.
Border Force also work with ports to provide a range of services designed to enhance the traveller experience, such as Registered Traveller, Fast Track, and e-Gates Passport Control.
At the Border Force stand in the Government Zone, we shared our experience and explored ways in which Border Force can work with other agencies to deliver our shared objectives. We also ran sessions demonstrating our specialist skills and best practice examples.