Security & Policing are inviting exhibiting organisations with UK originating technology to showcase innovative screening for visitors entering Security & Policing 2022.
Security & Policing 2022, organised by the Joint Security and Resilience Centre (JSaRC), returns as a live event for its 40th anniversary next year, between 15‐17 March 2022 at the Farnborough International Exhibition and Conference Centre.
As the official Government global security event, Security & Policing is a closed event, welcoming approved security professionals, UK suppliers, UK Government officials and senior decision makers across law enforcement and security from the UK and overseas.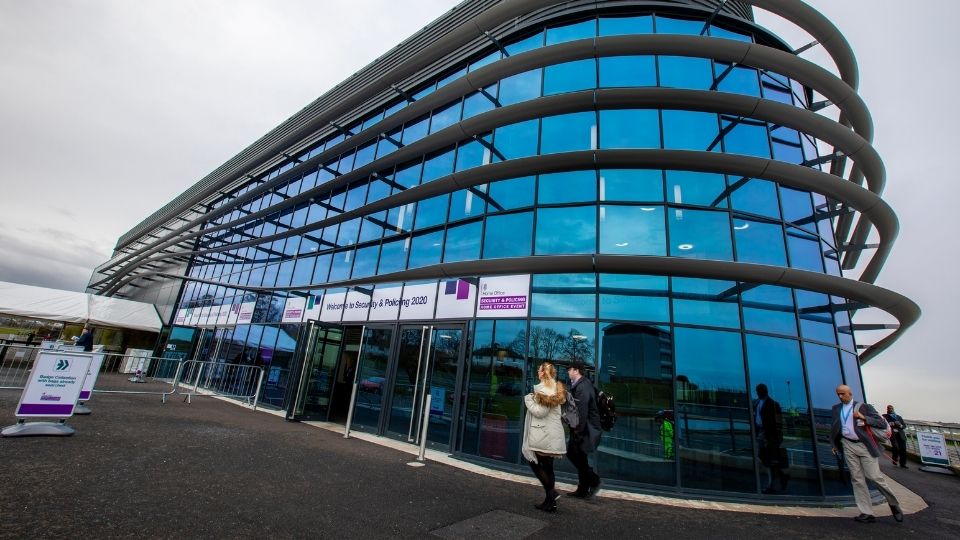 For 2022 we would like to offer exhibitors the chance to showcase their innovative screening technologies as we screen event visitors on entry to the venue. A demonstration of the UK's world leading capability as soon as our visitors arrive.
Solutions could cover several areas but will need to integrate and be in addition to the existing and planned security regime delivered by our in-house event and venue teams.
Solutions to showcase could include:
Standoff screening that reduces the need to hand search or divest a bag and/or identifies targets for secondary screening and hand search
Improving the visitor journey, making entry to the event quick, efficient and seamless while also focusing on safety and security
Innovative technologies that support high volumes of visitors in a COVID-secure way
Technologies to demonstrate how we need to change our approach to managing publicly accessible locations in a world with social distancing requirements
How traditional screening / detection methods can be amended to ensure biosecurity in crowded places
How to get involved – the opportunity
This is an exciting opportunity for an exhibitor to demonstrate the value of their visitor screening technology to over 6,000 event visitors over three days, including senior decision makers and buyers, international delegations, police services and government departments from the UK and overseas.
There will be an opportunity to signpost to your stand for follow up discussions with impactful branding.
Security & Policing are looking to work with those who are interested in showcasing innovative solutions that improves the visitor experience and enhances security on entry to the event.
Security & Policing attracts Ministers, senior civil servants and international delegations and is a great way to demonstrate how your technologies could support a security profile at a publicly accessible location at a time when economies are opening up post-pandemic and measures and initiatives such as the Protect Duty are launched in the UK.
Considerations
Technologies will be in addition to and not replacing security measures already employed at the venue.
The primary purpose of this opportunity is to showcase innovative solutions supplied by event exhibitors.
Any technology on display should not hinder comfortable and safe access to the venue or compromise the base security regime in any way.
Consequently, any solutions should be able to integrate into the CONOPS of the venue's normal security regime and ideally enhance the security posture with additional measures.
Please note this feature will not provide any Government endorsement or verification /certification of equipment.
This showcase opportunity is not a commercial activity. No goods or services will be purchased directly as a result of this opportunity.
To confirm, Technology showcased must be UK origin. Successful participants are required to have an exhibiting presence at Security and Policing 2022. An important benefit of showcasing your technology on entry to the event will be the interface between suppliers and visitors. There will be opportunity for visitors to liaise directly with supplier representative(s) throughout the event. Please indicate on your submission if you require support to have an exhibiting presence at the event.
Next steps – how to register your interest
Please complete the below Invitation to Participate application form by 17:00hrs on Friday 7 January 2022.
Security & Policing will review the responses submitted by this deadline, and you will be informed within four weeks, via your nominated point of contact, whether you have been successful in your application to be involved in the feature.
Application Form: