Critical Incident Response – sponsored by CrisisCast
In 2017 three different live scenarios took place over three days each demonstrating how the different response teams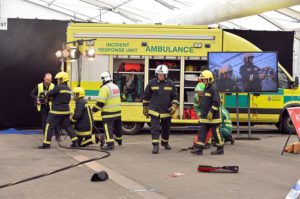 across Fire, Police and Ambulance work together using the very latest technology.
The first scenario showed a response to a serious incident at a train station on an open concourse, requiring armed officers to locate, confront and neutralise a serious threat. British Transport Police led in this scenario demonstrating how they work across response teams to deal with the situation.
The second scenario involved a medium sized aircraft that had crashed causing multiple fatalities. Critical Incident Response teams demonstrated how they work collaboratively in a high-impact mass casualty incident.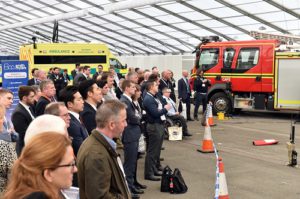 The third scenario took place in the aftermath of an oil tanker crash, which as the result of  intelligence appears to have been an act of terrorism. The crash resulted in a fire with fatalities as well as casualties and demonstrated how the fire service and police bring the situation under control.
Featuring an exciting and diverse range of cutting edge technologies and equipment, from a host of exhibitors, this was a truly immersive experience.