At the entrance to the Security and Policing 2017 venue there will be a 'High Footfall Screening Concept' sponsored by the Home Office's Joint Security and Resilience Centre (JSaRC) and the Centre for the Protection of National Infrastructure (CPNI). Visitors entering the venue had the opportunity to experience how innovative screening technologies can be deployed operationally at high footfall locations, providing a proportionate level of security assurance without creating long queues or delays.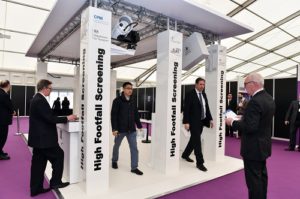 In contrast to "airport-style" checkpoints, this showed how people can be screened rapidly, without the need for removal of outer clothing or pocket contents, providing assurance that no one is carrying a larger threat item (e.g., a machine gun or suicide vest) capable of causing mass casualties.
Two, similar, screening technologies were deployed in adjacent lanes and operated by the venue's security staff. After the entrance bag search, visitors were guided to walk down either screening lane before proceeding to the registration desks.