Q:Is Security & Policing still a closed, secure event?
A: Security & Policing remains a closed event with no general admittance. All visitors are subject to Home Office approval. Possession of security clearance does not guarantee entrance to the event.
All visitors must be a current employee of one of the following organisations:
Police
UK or Overseas Law Enforcement
Border Agencies
First Responders
Criminal Justice Agencies
Government Departments and their Agencies
Overseas Government Departments, Police or Law Enforcement Agencies and their procurement agents/representatives
Key Operators and Regulators of National Infrastructure and Publicly Accessible Locations (Security Managers and Security Procurement Staff)
Security and Resilience Professionals – including UK companies supplying security solutions
Military
Academia
Once approved, access will be provided to the virtual event platform via a secure login using your whitelisted email that you provided as part of your approval registration. Please note this login is for your own use only and can only be used on a single device at any one time.
---
Q: How do I access Security & Policing online?
A: You must be a registered and approved attendee. If you have been approved you will receive a url with access to the online event environment.  You must then use the same credentials that you registered with to create an account.
---
Q: Can visitors still register to attend once the show is live?
A: No visitor registration closes Friday 5 March, 17:00
---
Q: My email address isn't recognised on the online environment registration page
A: You must make sure that you are using the exact same credentials that you used to register for the event.  Only these have been 'whitelisted' on the platform.  If you still encounter difficulties please email us registration@securityandpolicing.co.uk
---
Q: I have forgotten my password
A: To reset your password please select 'Forgot Password' and add the email address that you registered with and you can access
---
Q: Do I need to download any software to access the online environment?
A: No, you will not need to download any software. We do recommend the following system set up for optimum performance:
View the conference on a laptop or PC (if viewing on a smaller device you may want to 'zoom out' your browser a little.
Use Google Chrome or Firefox browser (Edge also works but Internet Explorer is not supported)
Make sure your browser and display settings on your desktop are not 'zoomed' in (3 dots top right of browser)
Switch off your pop-up blocker
---
Q: What time does the event open
A: The event environment is open 24/7.  The core event times are as follows:
Tuesday 9 March 2021: 09:00 – 16:30 GMT
Wednesday 10 March 2021: 09:00 – 16:30 GMT
Thursday 11 March 2021: 09:00 – 15:30 GMT
Outside of these times all the online event functionality remains. The exhibition hall and stands will remain open, chats, meetings and calls can occur outside these core hours to facilitate meetings for international visitors.
Once content sessions have aired in the auditorium, they will be made available to watch back on-demand for visitors who may have missed them or for international visitors attending in different time zones.
---
Q: How secure is the virtual platform?
A:Our chosen platform provider 6Connex is ISO27001 accredited.
The platform is hosted with Amazon Web Services (AWS). The most important feature of AWS is its security. AWS utilizes an end-to-end approach to secure and harden their infrastructure, including physical, operational, and software measures. Not only is the platform and data protected by highly secure facilities and infrastructure, but they're also protected by extensive network and security monitoring systems. These systems provide basic but important security measures such as distributed denial of service (DDoS) protection and password brute-force detection on AWS Accounts.
The platform also utilises the following security measures:
SSL Secure Registration and Passwords encrypted again utilizing SHA256
Secure Cookies & Storage
Unique Certification Authentication – with each client
Secure HTTPS access
Firewalls
Encrypted data storage
Perfect Forward Secrecy
Centralized key management
Amazon Relational Database Service (Amazon RDS)
---
Q: How do I use the platform?
A: Please watch our Visitor Top Tips video for the main functionality or view our Visitor Guide here
---
Q: If I am in a meeting or a session, can I change my status, so I am not disturbed?
A. Yes, simply click on your own profile headshot image in the top right corner and you can amend to your status between Online, Away and Do not disturb.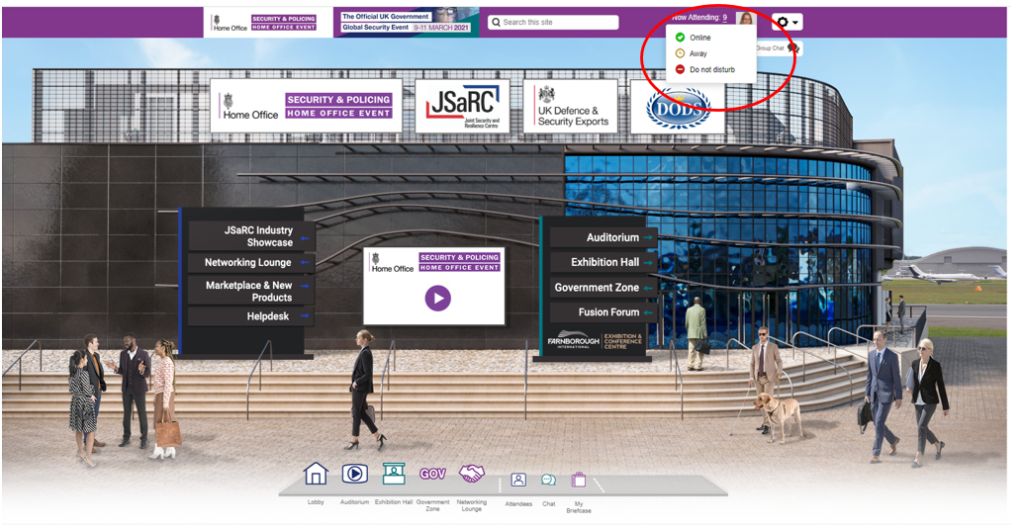 ---
How can I network with people?
A. There are several ways that you can network with people: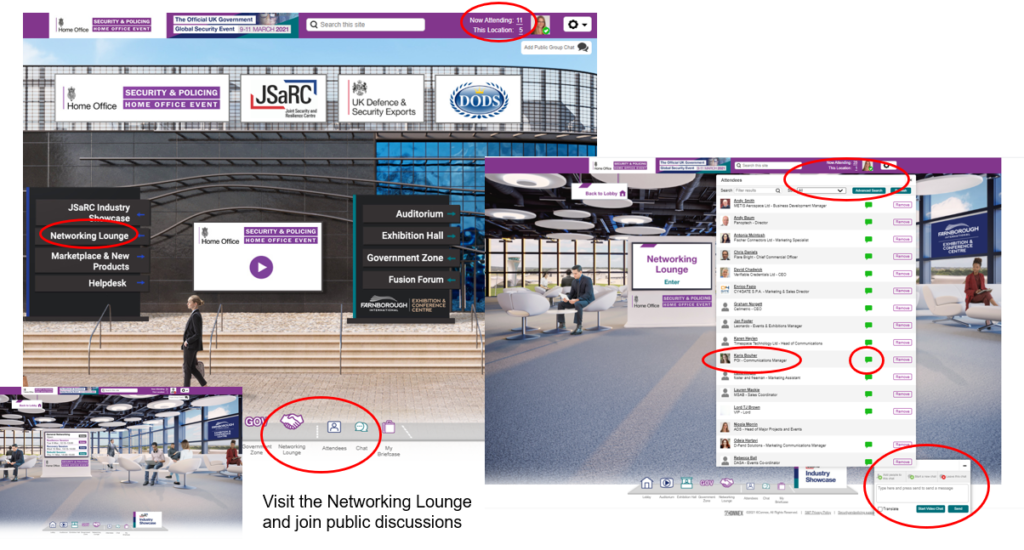 Either select 'Now Attending' or 'This location' in the top right corner OR select 'Networking Lounge' OR 'Attendees' OR 'Chat' on the bottom navigation bar.
From the attendee list you can then carry out an Advanced Search and refine your search based on your desired criteria.
If a person has a green speech bubble they are available, if orange they are away if red they are on do not disturb and cannot be contacted.
---
Can I create my own agenda?
Yes, simply visit the Auditorium, click on the central image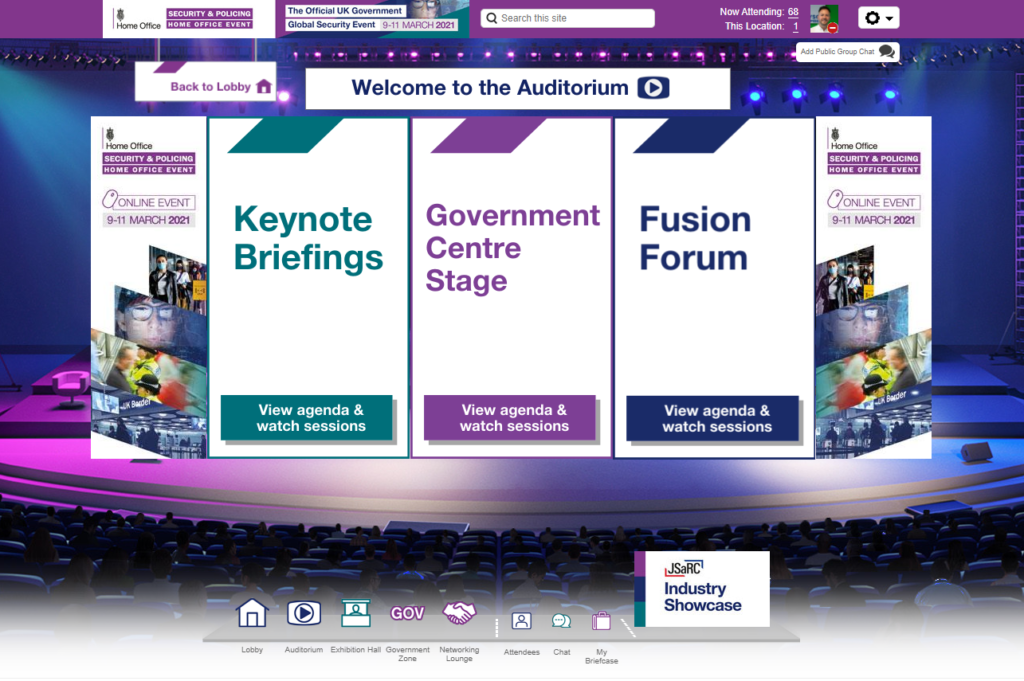 and a pop-up window appears: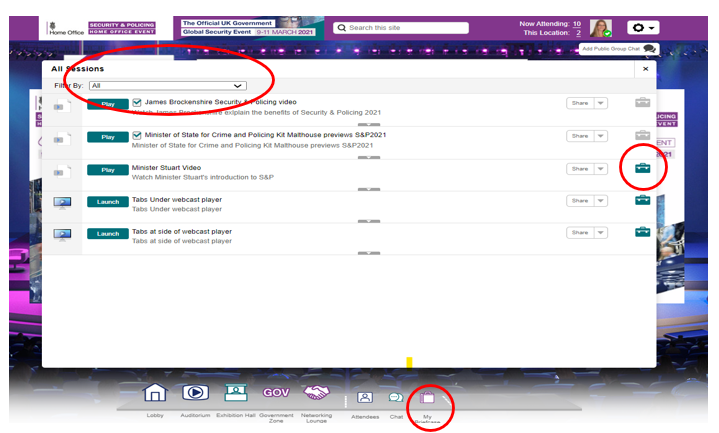 All sessions are shown by default or you can select between 'Keynote', 'Fusion Forum' or 'Government Centre Stage'.  Select the briefcase icon to add it to your briefcase.  Then view your briefcase and you will see the agenda you have built.  Alternatively, you can select the calendar icon to add to your own calendar.
---
Q: How do I find a particular exhibitor booth/stand?
A: Select 'Exhibition Hall', enter the name of the organisation that you are looking for or filter by Products and Services capabilities.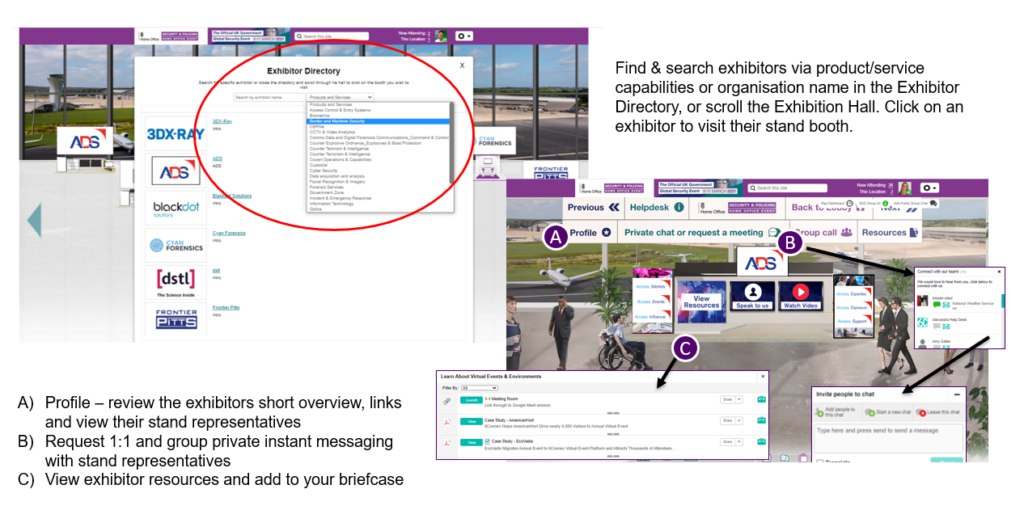 ---
Q: Will the event session details be available after the event?
A. Yes, if permission is granted by the speakers to store the sessions, sessions will be available 'ON demand' after the session has been aired.
---
Q: How long after the event will our portal and content be available for?
A: Content will be available for 6 months after the event. After this point the site will no longer be available.
---
Q: Can I have a call with more than 1 person?
A: In-platform videos calls are just 1:1. In order to have a teleconference call (with more than 1 person) you will need to use your own conference dial details. If you wish to speak with an exhibitor as a group, then ask the Exhibitor if they have a Group Call you can join or use your own details. Simply add the link to your group text chat
---
Q: I am uncomfortable with the way someone is speaking to me or another visitor, what should I do?
A: We have a Code of Conduct that all platform attendees have been asked to observe if you feel this is not being respected, please email securityandpolicing@adsgroup.org.uk advising us of the situation that you have observed and the parties involved.
For any further queries when logged in to the event, please visit the Helpdesk.