Thank you for registering to attend Security & Policing 2021. The event will commence at 09:00 on Tuesday 9 March. Please find some important information about your registration and the event below.
Registering and logging in to the online platform
You will be sent an access link to the online event platform login page on Tuesday 2 March in order to setup your online visitor account.
Please note your access is for a single user only and you MUST use the email address that you registered with during the approval process, as this is the address that is whitelisted to give you access on the platform.
Once registered and logged in you will have a week prior to the event to access and familiarise yourself with the platform ahead of the event commencing on Tuesday 9 March.
When registering your user account you will be asked for your areas of interest to aid networking and search functionality in the event. You will also have the option to upload a profile image, we encourage visitors to upload a photograph of themselves where possible.
Preparing for the event
Watch this preview video find out more about the event features and content at Security & Policing 2021.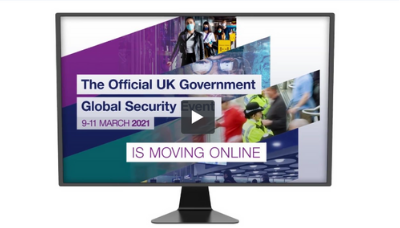 Code of Conduct
Please view this Code of Conduct that all participants and visitors must abide to, including guidance on how to report unacceptable behaviour.
Event Opening Times
Security & Policing online is available to login and access 24/7 once you have access to the platform.
There will however, be core event operating hours where keynotes and content will be scheduled, exhibitor stands and key event areas will be staffed. These are as follows.
Tuesday 9 March 2021 | 09:00 – 16:30 GMT
Wednesday 10 March 2021 | 09:00 – 16:30 GMT
Thursday 11 March 2021 | 09:00 – 15:00 GMT
Outside of these times all the online event functionality remains. The exhibition hall and stands will remain open and chats, meetings and calls can still occur outside these core hours to facilitate meetings for international visitors.
Once content sessions have aired in the auditorium, they will be made available to watch back on-demand for visitors who may have missed them or for international visitors attending in different time zones.