Visionmetric are specialists in facial identification and are the developers and providers of the world's most advanced facial composite products, EFIT and EFIT6. The EFIT6 software exploits methods of artificial intelligence to enable police and security forces to work with victims or eyewitnesses to crimes to create recognisable images of the suspect and thereby assist with identifications in criminal investigations. It is the preferred system of UK police forces and currently in use in over 30 countries on every continent. Visionmetric also provides comprehensive training courses to police and security forces and has delivered training on every continent.
Address
Canterbury Innovation Centre
Units 24-25
University Road
Canterbury
Kent
CT2 7FG
United Kingdom
Telephone
+44 (0)1227 811790
Website
www.visionmetric.com
New Product Launch
EFIT6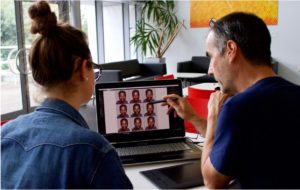 Visionmetric's unique facial composite – EFIT6, is the most advanced and one of the latest software's created by the company. It combines artificial intelligence methods with high image quality to create accurate, fast and highly realistic images of crime suspects. EFIT6 exploits our superior capacity to recognise faces through an interactive search procedure. Eyewitnesses respond to and manipulate faces as a whole and are not restricted to attempt to describe and select individual features from databases, a process used in other composite systems but proven by psychological research to be cognitively difficult.
Back to Exhibitor List