Bringing the very best of Security & Policing online
At a time when we cannot meet in person, Security & Policing will bring together attendees and delegations from across the world online, to ensure that engagement remains at the heart of this event.
REGISTER FREE    ENQUIRE TO EXHIBIT
VISITOR REGISTRATION CLOSES: FRIDAY 5 MARCH, 17:00 GMT
We are working with an innovative and secure digital platform, with networking functionality and virtual exhibition halls that will ensure engagement between exhibitors, key stakeholders, international delegations, police services and Government departments.
Visitors will have access to an extensive programme of live and on-demand content and keynotes led by senior UK Government officials across three core themes of Resilience, Recovery and Rebuild, as we continue to evolve Security & Policing through innovation in response to the latest security challenges and ongoing COVID-19 pandemic.
---
What to expect
Security & Policing presents the ideal setting to learn about the innovation, policies and equipment available to respond to the latest and future security challenges and threats. This year in response to the ongoing challenges of the COVID-19 pandemic and continuing to evolve security and policing through innovation, Security & Policing will be centred around three core themes of resilience, recovery and rebuild.
Watch the preview

A range of dedicated  features run alongside the extensive virtual exhibition, making this the premier platform for relevant UK suppliers to showcase the very latest equipment, training and support, to police services, Government departments, organisations and agencies from the UK and overseas

Interactive virtual exhibition
Visitors will be able to navigate a fully interactive virtual exhibition showcasing best in class solutions from leading UK exhibitors. You will be able to search and engage with exhibitors via virtual exhibition halls and search for companies, personnel, products, services and capabilities of interest via keyword search functionality and themed groups of exhibitors to ensure that engagement remains at the heart of this event.
Find out about this year's exhibitors
---

Exclusive digital networking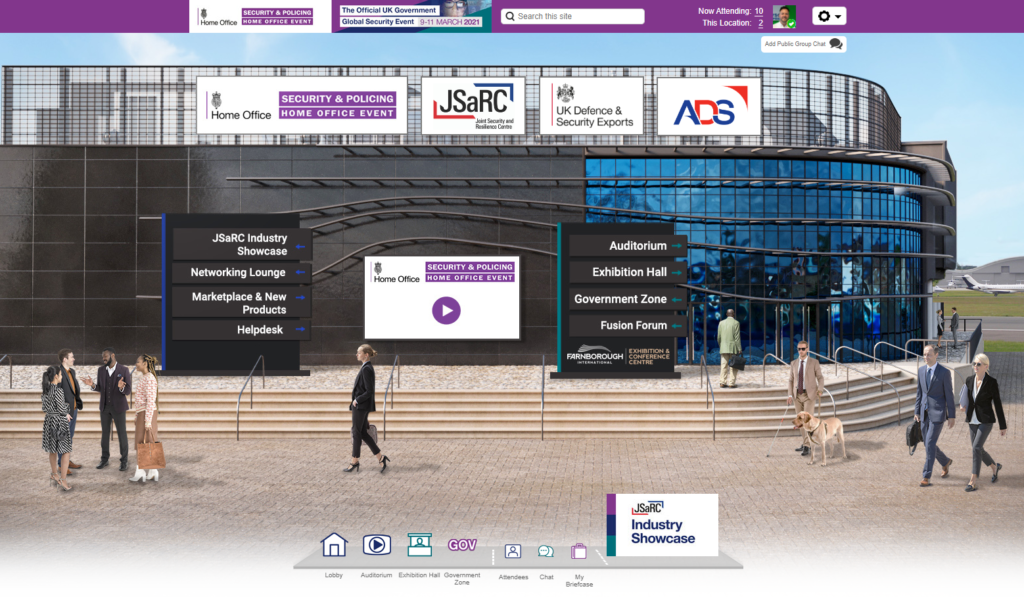 Core to Security & Policing, the online platform will offer ample networking opportunities with UK and international, Home Office approved visitors and exhibitors across the event. Networking functionality includes advanced and categorised search functionality, 1:1 meetings, video calls, instant messaging and dedicated networking areas.
Find out more about the visitor experience
---

Online keynote briefings & sessions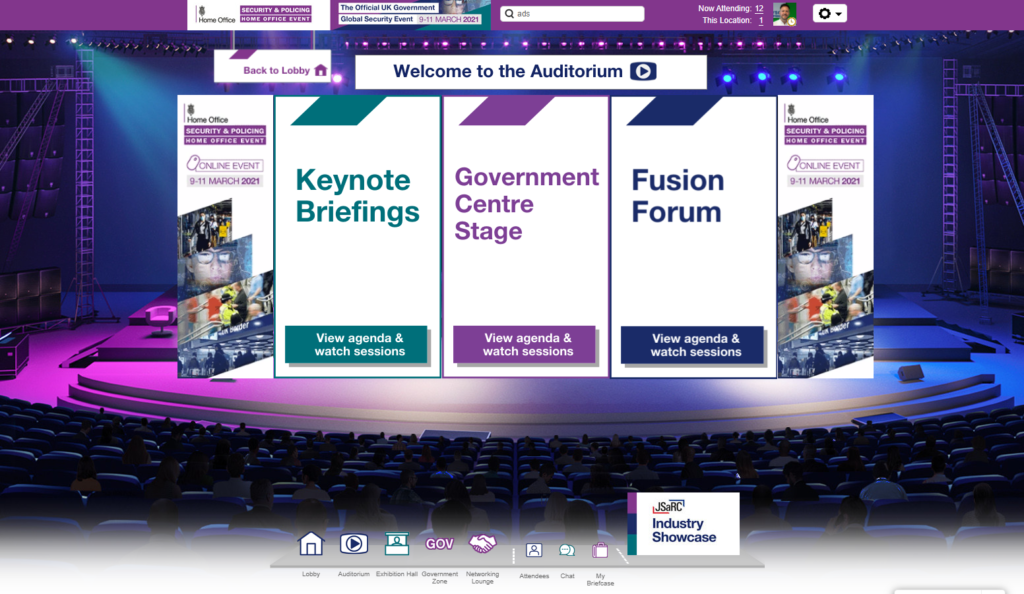 There will be an extensive programme of scheduled and on-demand sessions be led by senior UK Government officials, senior policing officials and industry representatives.
View the Keynote Briefings Agenda | View the Fusion Forum Agenda
---

The Fusion Forum
Returning by popular demand, the virtual Fusion Forum will offer leading insight and promote new and integrated ways to delivering security solutions across Government, Industry and Academia. It will include a range of exciting live and on-demand online video content incorporating a blend of keynote addresses, fusion panel sessions and industry challenges.
---

Access Government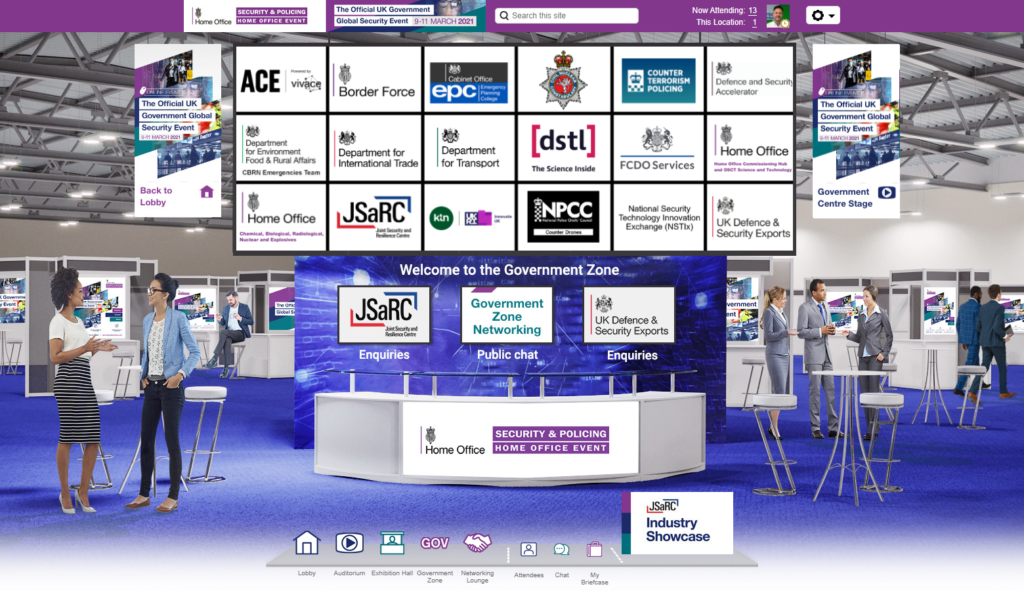 Get access and exposure to senior decision makers and policy developers in Government via a dedicated virtual Government networking and showcase zone where you can engage with officials and operational staff from 19 UK Government departments and law enforcement agencies.
Meet representatives from government and agencies on virtual exhibition stands and networking areas where you can book virtual meetings, chat privately 1-1 and hold video calls to discuss topics and opportunities relating to their work – plus new for 2021 – watch videos briefings and updates from Government departments on their latest priorities and developments in the Government Centre Stage.
Find out more including attending Government organisations
---

JSaRC Industry Showcase
For Security & Policing 2021, the Joint Security and Resilience Centre (JSaRC) is collaborating with other government departments to create an online industry showcase which will provide an integrated demonstration of various innovative security solutions, brought together under one overarching narrative.
The interactive feature is entitled 'The Showcase: Industry solutions to security challenges' and will focus on showcasing and demonstrating solutions and technology across the three event themes of Resilience, Recovery and Rebuild:
Resilience –This segment will focus on the new COVID hardening technologies to demonstrate how we need to change our approach to managing publicly accessible locations in a world of social distancing requirements. We will seek to demonstrate how traditional screening / detection methods can be amended to ensure biosecurity in crowded places such as a sports stadium.
Recovery – This segment will focus on overcoming the challenges passengers, airport staff and Border Force officials face during the international arrivals process at airports. It will look at solutions that bring around behavioural change in order to give passengers the confidence to travel, as well as ways to improve the passenger journey, making crossing the border quick, efficient and seamless while also focusing on safety and security. There will therefore be an emphasis on innovative technologies that support high volumes of passengers in a COVID-secure way.
Rebuild – This segment will focus on how Her Majesty's Government and the security industry will work together to make future online working arrangements as safe as possible. It will demonstrate how new technologies and processes can ensure the same security benefits from home working that you would expect in the office environment. This will be concentrated around: identification and access control; end-to-end security; and an internet of things. We expect this part of the feature to be staged inside a home working environment.
---

Exhibitors at Security & Policing are invited to enter the ADS Security Innovation Award which recognises the innovative capabilities and services developed by UK security companies. The award is specifically designed to identify those capabilities that have caused a step change in the effectiveness of the UK's ability to prevent, respond to, reduce the impact of or investigate risks and incidents.
Find out more about the ADS Security Innovation Award 2021 finalists
---