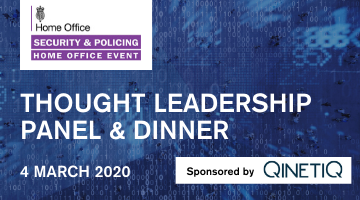 Sponsored by

Book online via the exhibitor manual
(Please note you will need to login using your ADS username and password to access the booking page.  If you do not have an ADS web account, please register for one via this link.)
Join us on Wednesday 4 March for an evening of discussion and networking at the second annual Security & Policing Thought Leadership Panel & Security Dinner sponsored by QinetiQ.
The evening will begin with a thought leadership panel discussion dedicated to the theme of Countering the improper use of Drones.
Speaker Panel
Dr Hugo Rosemont, Director – Security and Resilience Sector, ADS Group (Moderator)
Shaun Hipgrave, Director – Protect and Prepare, CBRNE, Science and Technology, Office for Security and Counter-Terrorism (OSCT), Home Office
Angela Essel, Head of the Joint Security and Resilience Centre (JSaRC), Home Office
Inspector Andy Harding, Staff Officer to National Police Chiefs Council lead for Counter Drones
Phil Cork, Head of Programmes, Electronic Warfare Products, QinetiQ
With representatives from Government, Industry and Law Enforcement, don't miss a thought-provoking evening of lively discussion on this highly topical issue.
Following the thought leadership panel, the evening continues with a networking reception followed by dinner during which the keynote speech will once again be delivered by Tom Hurd, Director General of the Office for Security and Counter-Terrorism.
Timings
16:30: Thought Leadership session
17:45:  Drinks reception
18:30:  Dinner and keynote speech
Table of 10 bookings and individual places are available exclusively to Exhibitors:
Table of 10: £650.00 (ex. VAT)
Individual: £70.00 (ex. VAT)
Limited individual places are available and following the success of the inaugural Dinner in 2019, interested parties are encouraged to book soon to avoid disappointment.
Book online via the exhibitor manual
(Please note you will need to login using your ADS username and password to access the booking page.  If you do not have an ADS web account, please register for one via this link.)
This event is open to Security & Policing exhibitors only.