GENERATE MORE BUSINESS WITH BRAND AWARENESS
The Official Interactive Digital Preview and Official Show Catalogue for Security & Policing 2024, produced in partnership with Showtime Media Services, gives exhibitors the perfect opportunity to maximise your company's presence.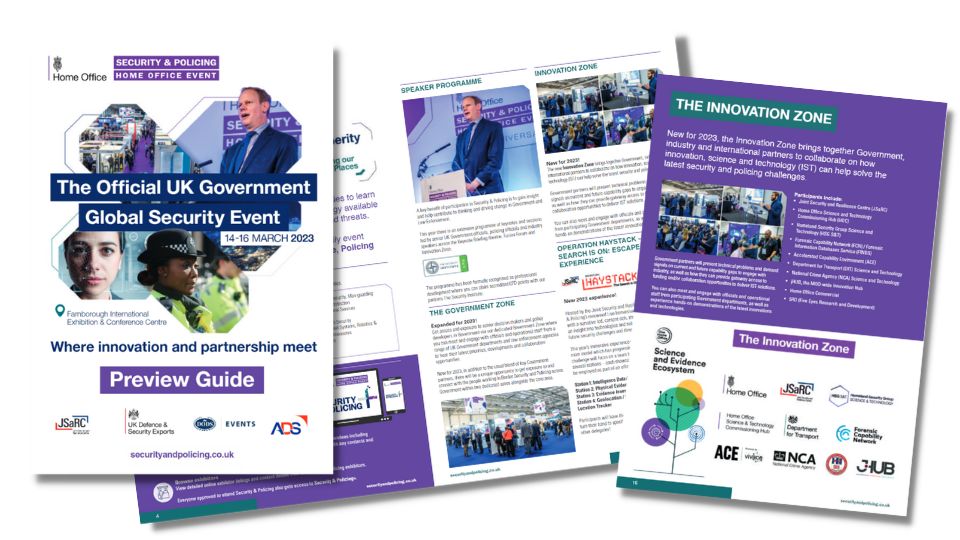 OFFICIAL INTERACTIVE DIGITAL PREVIEW
The Interactive Digital Preview is emailed out to all Pre-registered visitors 3 weeks before the event. The Interactive Digital Preview will contain Exhibitor news stories, covering new services, product launches, promotions, mergers, new contracts and industry trends. All show information including Exhibitors, Keynote speakers, forums and webinar details.
OFFICIAL SHOW CATALOGUE
3,000 copies of the Show Catalogue will be printed and made available to all the visitors at the entrance of the exhibition hall. The catalogue will include important exhibition information including the Keynotes Programme, Government Showcase, Fusion Forum, ADS Security Innovation Awards, the Floorplan, and exhibitor profiles with stand locations.
OFFICIAL POCKET GUIDE
The onsite Pocket Guide will include vital show information (Floorplan, Keynotes Programme, Government Showcase). The Pocket Guide also offers limited promotional opportunities, with 3,000 copies distributed at the event.
View the full Media Pack of advertising and sponsorship opportunities here
COPY DEADLINES
Official Interactive Digital Preview: Friday 26 January 2024
Official Show Catalogue: Friday 2 February 2024
For more information or to book, please contact:
Melissa Winters
T: +44 (0) 7590 207879 
E: sales@showtimemedia.com or melissa@showtimemedia.com 
All editorial, advertising and sponsored content is subject to approval from the Event Organisers.
EMAIL PHISING WARNING
Over the past years booked and former Security & Policing exhibitors have been targeted and contacted by a variety of companies claiming to have the attendee data for Security & Policing available for sale.
These claims are false, and we can assure all exhibitors that we have not provided any personal data of attendees for this year's event or previous events to these companies or any companies that may claim to have obtained attendee information.
We advise all exhibitors not to engage with these companies as we believe this is an attempt at 'phishing'.
Please be vigilant of all communications and potential phishing emails. If you are contacted by a company about attendee data, please do not engage, and forward the email on to our team so we are aware.
All official event communications will come from @securityandpolicing.co.uk and @adsgroup.org.uk email domains.
Booked exhibitors will also receive communications on the above editorial and advertising opportunities from our Official Event Guide publishers Showtime Media, which will come from Melissa Winters (melissa@showtimemedia.com) or Brian Clarke (editorial@showtimemedia.com).
If you have any questions or concerns, please do not hesitate to contact us.