Hosted by the Joint Security and Resilience Centre (JSaRC), Security & Policing's renowned Live Immersive Experience provides visitors with a series of narrative-led, content-rich, immersive experiences, which give an insight into technologies and solutions to solve the latest and future security challenges and threats.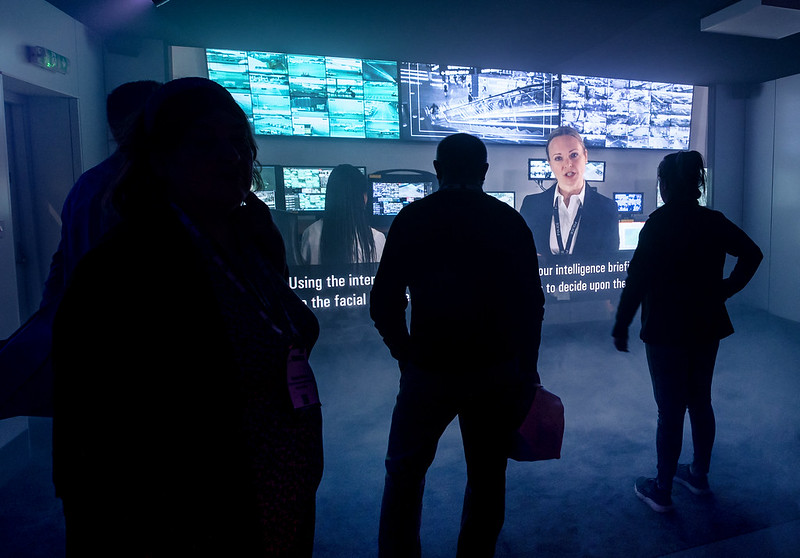 Registration of interest is now open for the 2024 Immersive Experience.
Based at a large fictional transport hub (train and underground station), participants will be alerted that there is a suspicious bag on one of the trains. They will then have the opportunity to work their way through a multi-layered terrorist incident as a team to:
Stop a drone, which is causing disruption during the multi-layered terrorist incident
Ensure the safety of the public during the multi-layered terrorist incident
Is there a specific capability required?
We are seeking applications from organisations that can contribute content and experience on numerous areas. The immersive will aim to highlight…
… varying Counter Drone Technology which could be used to detect, classify, and mitigate drones and unmanned aerial vehicles.
…varying Transport CCTV Technology that both transport operators and police have available, to ensure that they can gain the best possible situational awareness of what is happening across a network, at any given time.
… varying Geolocation / Map Tracking Analysis Technology available to work out the location of a suspect.
… varying Crowd Simulation / Modelling Technology to examine rail passenger flow in a train station or underground station.
… the benefits of utilising AI in a train station or underground station.
… how to overcome some of the challenges first responders often face when trying to access data or information across Police Forces or third-party organisations.
More information on the capabilities the Immersive Experience is targeting can be read here.
Sound like a fit for your organisation?
Click here to learn more and register your interest in participating in the 2024 Immersive Experience at Security and Policing.
Previous Immersive Experiences
2023: Operation Haystack – The Search is On: Escape Room Experience
This year's immersive experience was based on the timed escape room model which has progressive stations with a single solution. The challenge focussed on a team being required to successfully navigate several stations – each showcasing different security skills that can be employed as part of an effort to stop a terrorist incident.
Watch highlights:
Participants had the opportunity to understand a range of skills, turn their hand to specific tasks, beat the clock and compete against other delegates!
2022: Incident at Sea: Live Immersive Response
The feature was focussed on taking the audience through the repercussions of a ransomware attack on a shipping vessel in close proximity of a busy UK sea port. This immersive experience was designed to take visitors through a series of visual and interactive tours which demonstrate how technology, products and solutions from some of the UK's leading industry and academic organisations can demonstrate how threats can be detected, diverted, intercepted and neutralised.
2020: Plan. Travel. Visit. Your future secure journey
The feature gave visitors an insight into a future secure journey, showcasing and demonstrating solutions and technology that improve security around pre-journey planning, aviation and travel security and crowded places and infrastructure.
2020: Knife Crime: A 21st Century Approach
The Joint Security and Resilience Centre (JSaRC) collaborated with the Home Office's Serious Violence Unit and Accelerated Capability Environment to create a live immersive experience that illustrates a blended, preventative approach to tackling Knife Crime. The feature focused on showcasing and demonstrating solutions and technology across data, technology and community engagement.