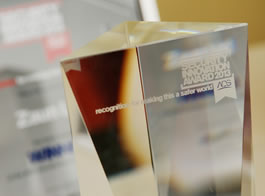 The Award
Please note that nominations for 2015 are now closed.
Now in its 12th year, this prestigious Award recognises not only the innovative equipment and technology produced by UK companies, but equally importantly, the partnership between people on the ground and those prepared to put the time and skill behind the development and production of new and ground breaking technology.
Today we live in a world where security requirements change rapidly. Our adversaries are ever more sophisticate in their tactics to commit crimes; the Police and Law Enforcement Agencies with the aid of ground-breaking technologies need to be one step ahead. The UK Security industry is a world leader in the innovation of advanced engineering, manufacturing and services and at ADS we are committed to raising the profile of our Members.
The ADS Security Innovation Award will be presented to the advanced engineer of a piece of equipment, technology or service which is deemed to be unique and innovative.
What the judges are looking for
Products/services must have been brought to market in the last two years. This can include new versions/updates of existing technology
Equipment or technology which has significantly improved crime prevention, or has significantly improved and made efficient police/law enforcement agencies operability
Examples of a Government or commercial customer in which the product or service is currently in use
What can you expect from winning the Security Innovation Award?
Enhanced visibility at the Security & Policing event, including incorporation into the VIP tours
VIP guests at the Security & Policing reception, including presentation of the award by a UK Minister
Media coverage through ADS channels, including a feature in ADS Advance magazine
A prime slot as part of the Briefing Programme at Security and Policing
Entering the ADS Security Innovation Award is a great way to showcase your innovation to the Security community, providing an excellent PR opportunity for your business. You will also be given the privilege of using the ADS Security Award Winner logo.
2014 winners
RepKnight, a leading open source monitoring platform, was awarded the prestigious Security Innovation Award 2014, at the awards ceremony on 11 March. Since it was established three years ago, RepKnight has quickly established itself a leader in detecting and understanding what is being said on the web through social media, forums and RSS feeds in real-time. Find out more.
The awards also recognised Safetyflex Barriers, which was presented with a runner up award for its world-leading Anti-Terrorist Spring steel bollards and Barriers. Hidden Technology and Reveal Media were both highly commended.