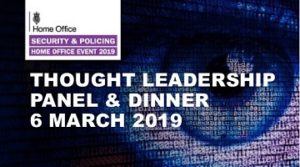 Last few places available for our evening of discussion and networking at the inaugural Security & Policing Dinner; sponsored by Airbus.
The evening will begin with a thought leadership discussion dedicated to the theme of Tackling Crime in the Digital Age. With industry representatives from Facebook and Airbus alongside Government and law enforcement, it will be an interesting session.
Confirmed Panel:
Dr Hugo Rosemont, Director – Security and Resilience Sector, ADS Group (Chair)
Stephanie McCourt, Law Enforcement Outreach, Facebook (UK)
Mike Hulett, Head of Operations, National Cyber Crime Unit, National Crime Agency
Richard Smith, Senior Consultant, Airbus Defence and Space – Intelligence
Alan Pratt – Chief Security, Science and Innovation Officer, Home Office
The evening continues with a drinks reception followed by dinner where the keynote speech will be delivered by the Director General of the Office for Security and Counter-Terrorism, Tom Hurd.
Limited individual places available.