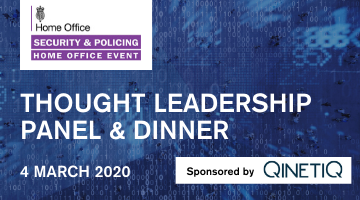 Join us for an evening of discussion and networking at the second annual Security & Policing Dinner, sponsored by QinetiQ.
The evening will begin with a thought leadership panel discussion dedicated to the theme of Countering the improper use of Drones.
With representatives from Government, Industry and Law Enforcement, don't miss a thought-provoking evening of lively discussion on this highly topical issue.
Following the thought leadership panel, the evening continues with a networking reception followed by dinner during which the keynote speech will once again be delivered by the Director General of the Office for Security and Counter-Terrorism, Tom Hurd.
Draft Timings
16:30: Thought Leadership session
17:45:  Drinks reception
18:30:  Dinner
Table of 10 bookings and individual places available. Following the success of the inaugural Dinner in 2019, interested parties are encouraged to book soon to avoid disappointment.
Limited individual places available. If you are booked to exhibit at Security & Policing 2020 we do hope you will join us.
Bookings opening soon