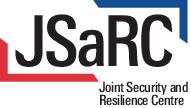 The Joint Security and Resilience Centre (JSaRC) has been established to help the government and UK security sector suppliers work more closely – making it quicker and simpler to bring customers and solutions together. JSaRC is a unit of the Office for Security and Counter Terrorism (OSCT) within the Home Office. HO has committed matched funding in the form of: people, expertise and facilities (on either a temporary or a permanent basis) to JSaRC.
What we do:
Deliver a joint response to the UK's national security challenges
Drive the delivery of the right solutions
Support the growth of the security sector
At Security and Policing 2018, JSaRC exhibited in the 2018 Security and Policing Government Zone and new for this year, we collaborated with Border Force for the Border Security Immersive Experience. JSaRC  showed how innovative technologies can improve the passenger experience and effectively process and clear coach and car traffic at rail and train border crossings reducing bottlenecks.