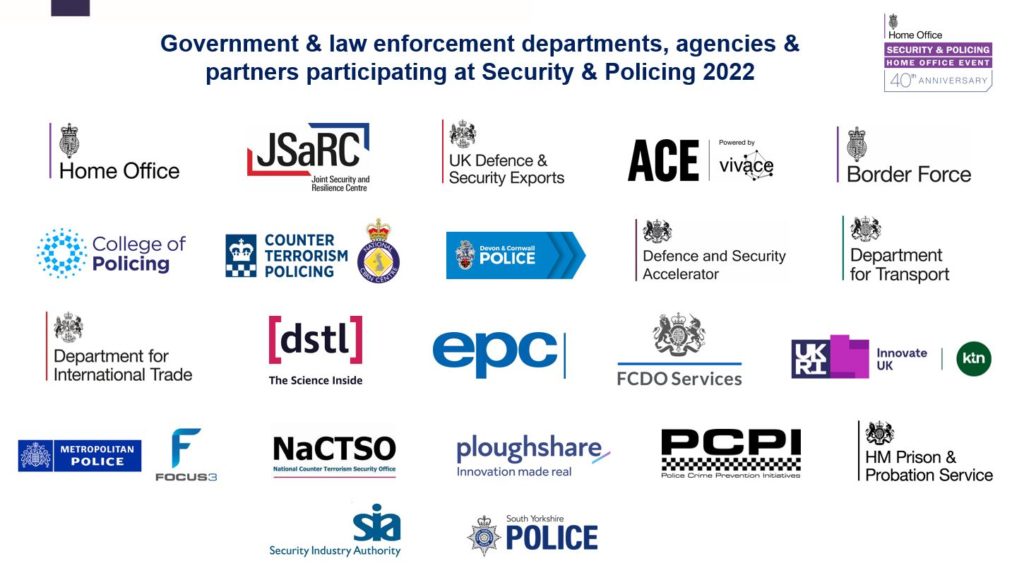 In just 5 weeks' time Security & Policing, the only official UK Government global security event, returns as a live event for its 40th anniversary between 15‐17 March 2022 at the Farnborough International Exhibition and Conference Centre.
This year there will be a record number of participating Government departments and agencies attending for approved visitors to engage with. These include:
Joint Security and Resilience Centre (JSaRC)
UK Defence and Security Exports
Accelerated Capability Environment (ACE)
Border Force
College of Policing
Defence and Security Accelerator
Defence Science and Technology Laboratory (Dstl)
Department for Transport
Devon and Cornwall Police
Department for International Trade – Export Control Joint Unit (ECJU)
Digital, Data and Technology (DDaT) Police and Public Protection Technology Unit
Emergency Planning College
FCDO Services
HM Prison and Probation Service
Home Office Chemical, Biological, Radiological, Nuclear and Explosives Unit (CBRNE) / Home Office Radiological and Nuclear Unit
Home Office Counter Drone Unit
Home Office Cyber Policy Unit
Home Office Future Borders and Immigration System: Digitise (FBIS)
Home Office Protect and Prepare
Home Office Victims of Terrorism Unit
Homeland Security Group Science and Technology Unit / Home Office Commissioning Hub
Innovate UK KTN
International Police Assistance Service
Metropolitan Police Digital Cyber and Comms – Focus 3
National Counter Terrorism Policing Headquarters (NCTPHQ)
National Security Technology and Innovation Exchange (NSTIx)
Police Crime Prevention Initiatives
Security Industry Authority (SIA)
South Yorkshire Police
Get access and exposure to senior decision makers and policy developers in Government via our dedicated Government Zone where you can meet and engage with officials and operational staff from a range of UK Government departments and law enforcement agencies.
New for 2022, The Centre Stage located adjacent to the Government Zone will give visitors and exhibitors the chance to hear directly from speakers from Government departments and agencies on their latest priorities, developments and collaboration opportunities.
Free visitor registration to attend Security & Policing 2022 is now open.
Security & Policing 2022 remains a closed event and all visitors are subject to visitor criteria and Home Office approval.
In response to COVID-19 we will be ensuring enhanced safety and sanitary measures are implemented throughout the event in line with up-to-date Government and event guidance.