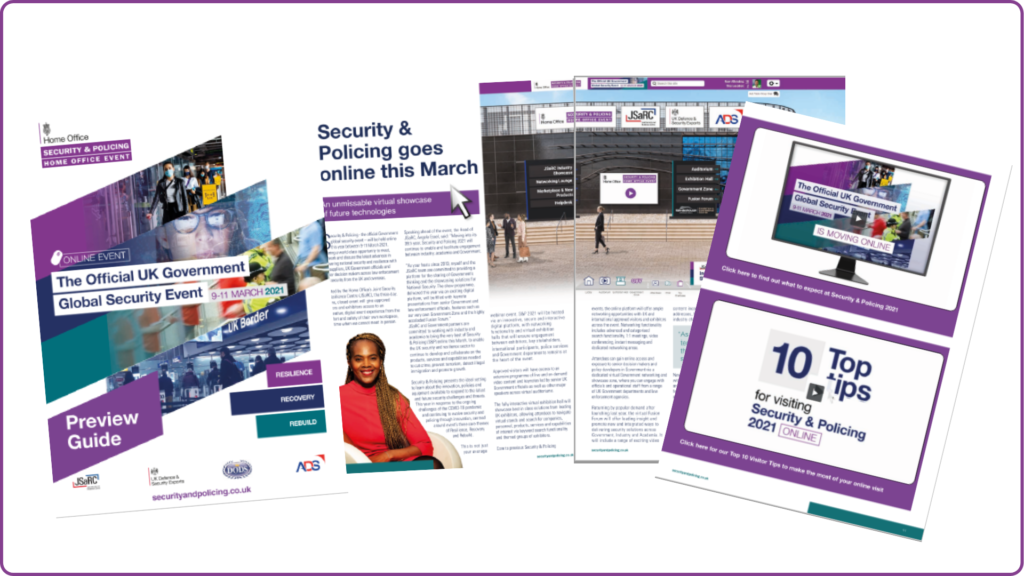 As the countdown continues to Security & Policing 2021, the official UK Government global security event, you can now read our digital Preview Guide on what to expect at this year's ground-breaking online between 9-11 March.
View our Digital Preview Guide to Security & Policing 2021
Featuring:
Preview – Security & Policing goes online
Event Features
Keynote Briefings and Fusion Forum Agenda and Sessions confirmed so far
Government Zone overview
JSaRC Industry Showcase – what to expect
ADS Security Innovation Award finalists confirmed
Exhibitor editorial features
2021 Exhibitors
Prospective attendees can now also view our Top 10 Tips video for approved visitors to watch ahead of logging into the event platform, as well as access our Visitor Guide here
Not registered?
If you haven't registered to attend this year's event there is still time to register. Security & Policing 2021 remains a closed event, with all visitors subject to Home Office approval. Visitors who meet the visitor criteria can apply to register for their free online now.
Visitor registration closes Friday 5 March, 17:00.