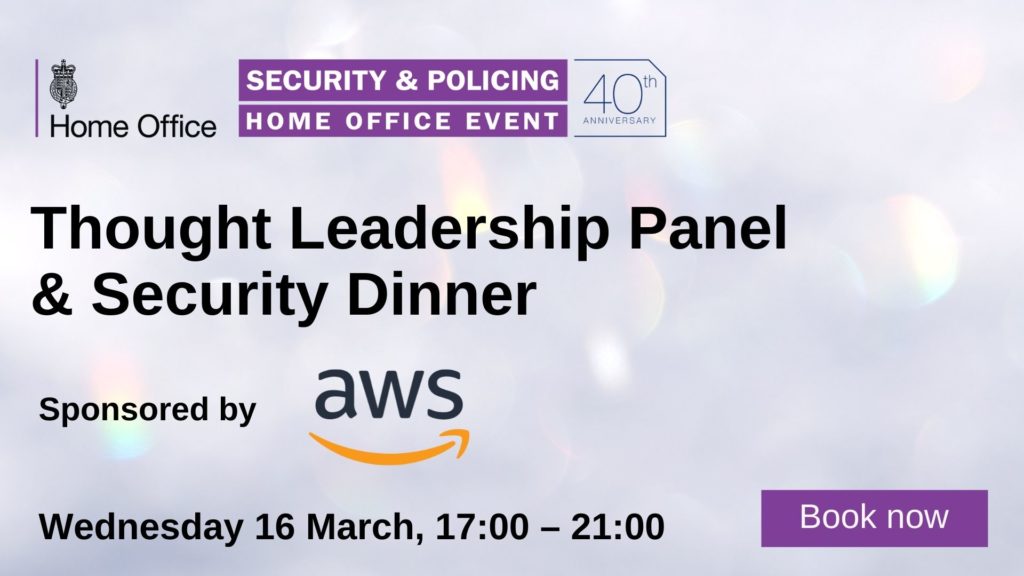 Security & Policing Thought Leadership Panel & Security Dinner
sponsored by Amazon Web Services (AWS) – Wednesday 16 March 2022, 17:00 – 21:00
Join us on Wednesday 16 March for an evening of discussion and networking at the annual Security & Policing Thought Leadership Panel & Security Dinner sponsored by Amazon Web Services (AWS).
The evening will begin with a thought leadership panel discussion dedicated to the theme of National Resilience addressing, amongst other issues, bouncing back from the pandemic and the effects on UK national security and prosperity of current geopolitical challenges. With representatives from Government, Industry, Academia and Law Enforcement, don't miss a thought-provoking evening of lively discussion on this highly topical issue.
Following the thought leadership panel, the evening continues with a networking reception followed by dinner during which the keynote speech will once again be delivered by a senior Home Office official.
This event is open exclusively to booked exhibitors at Security & Policing 2022.
Timings
17:00 Thought Leadership Panel & Tea/coffee on arrival
18:15 Drinks reception
19:00 Dinner service and keynote speech
How to book
Table of 10: £800.00 (ex. VAT)
Individual: £85.00 (ex. VAT)
Limited individual places are available but interested parties are encouraged to book soon to avoid disappointment.
Exhibitors can book their place online via the exclusive booking link sent to your lead contact via email.
There's still time to book your exhibitor space
Regardless of your company size, Security & Policing offers exhibitors a unique opportunity to showcase your products and capabilities to a highly targeted and influential audience. You can also take part in a range of exclusive exhibitor activities, including the opening day Drinks Reception, Fusion Forum industry challenges and breakfast networking sessions.
Please note there are various important upcoming exhibitor deadlines ahead of the event, so we encourage organisations interesting in exhibiting to enquire and book your place as soon as possible to ensure you don't miss out.
ENQUIRE NOW
Joe Peace
Event Sales Account Manager