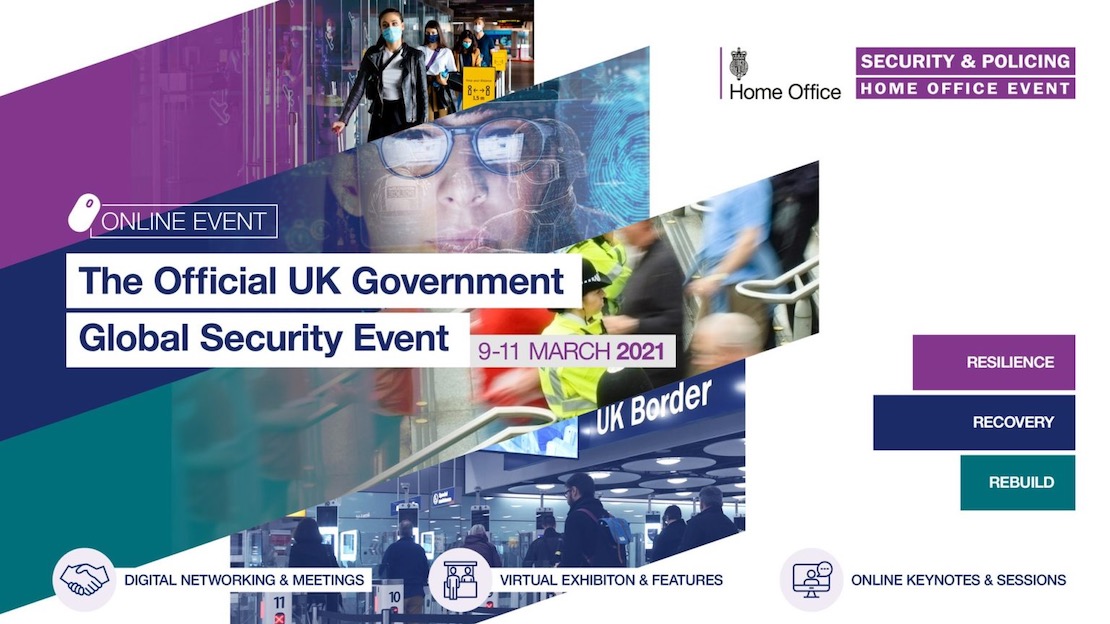 The health and safety of our visitors, exhibitors and staff is our number one priority at Security & Policing, and after careful consideration due to the ongoing global impact of COVID-19, we have taken the decision to host Security & Policing 2021 as an online event. The event will take place as originally scheduled, between 9-11 March 2021.
The Joint Security and Resilience Centre (JSaRC), alongside our Government partners, and the Department for International Trade, UK Defence & Security Exports, are committed to delivering a world-class event experience.
Consultation with our valued industry partners has shown ambition to continue to innovate, welcoming the opportunity to be able to continue to do business and make definitive plans for the coming year.
Security & Policing 2021 will remain a closed event, with all exhibitors and visitors subject to Home Office approval; and the event will continue to provide an outstanding opportunity to meet, network and discuss the latest advances in delivering national security and resilience with UK suppliers, UK Government officials and senior decision makers across law enforcement and security.
At a time when we cannot meet in person, Security & Policing will bring attendees and delegations from across the world, to ensure that engagement remains at the heart of this event.
Bringing the best of Security & Policing online
 We are working with an innovative and secure digital platform, with networking functionality and virtual exhibition halls that will ensure engagement between exhibitors, key stakeholders, international delegations, police services and Government departments.
Delegates will have access to live and on-demand content, immersive features and keynotes from senior Government officials across three core themes of Resilience, Recovery and Rebuild, as we continue to evolve Security & Policing through innovation in response to the latest security challenges and ongoing COVID-19 pandemic.
Visitor Information
Through this innovative digital platform, we can guarantee the safety and COVID-19 secure nature of our event.
As our visitors, you will be able to take advantage of the outstanding content and engagement opportunities that Security & Policing always delivers, from the safety of your chosen workspace.
Over the coming weeks we will be launching an online visitor registration. This will allow our returning delegates and new visitors to ensure their participation in this innovative and exciting online event experience.
Exhibitor Information
JSaRC and our Government partners are committed to working with industry and academia to bring the very best of Security & Policing online, to enable the UK security and resilience sector to continue to develop and collaborate on the products, services and capabilities needed to cut crime, prevent terrorism, detect illegal immigration and promote growth.
Information regarding the launch of our new digital exhibitor packages, the Security & Policing Global Boulevard and the comprehensive engagement opportunities will be released within the following weeks.
More information and announcements will be made over the coming weeks.