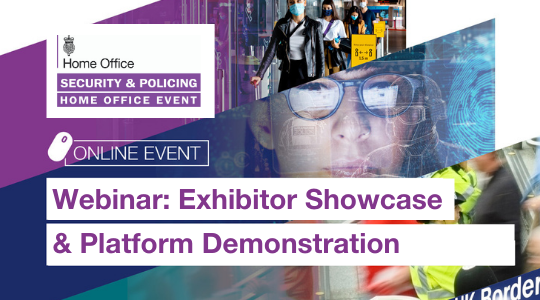 It's now just 60 days to go to Security & Policing 2021, set to take place as an online event between 9-11 March 2021.
Over 1200 visitors have already registered to attend THE official Government global security event online, offering a world-class opportunity to meet, network and discuss the latest advances in delivering national security and resilience with UK suppliers, UK Government officials and senior decision makers across law enforcement and security from the UK and overseas.
Hosted by the Home Office's Joint Security & Resilience Centre (JSaRC), this three-day online event will give exhibitors access to an innovative, digital event experience with networking functionality and virtual exhibition halls that will ensure engagement with this targeted audience remains at the heart of the event.
Exhibitor demo webinars this month
Prospective exhibitors can now sign-up for one of two exclusive demonstration webinars which will give you a preview of the digital event platform and overview of the exhibitor opportunities for Security & Policing 2021. There will also be a short Q&A session. Book your free place now…
Tuesday 12 January, 13:00 – 14:00 – Find out more and register
Tuesday 26 January, 13:00 – 14:00 – Find out more and register
Upcoming exhibitor deadlines
Find out more about exhibiting options here