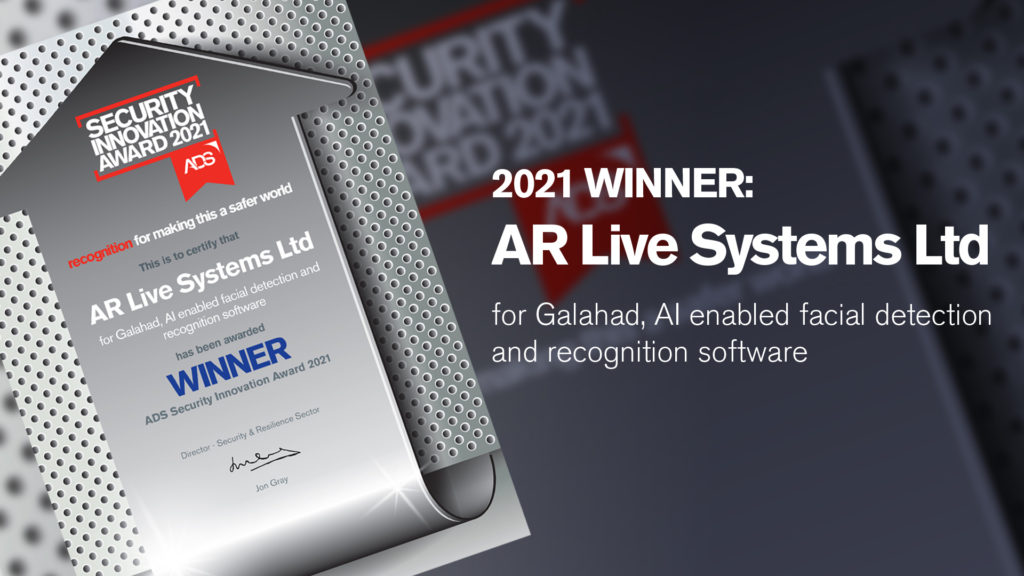 The opening day of an entirely digital edition of Security & Policing saw AR Live Systems win the 16th annual ADS Security Innovation Award.
The ADS Security Innovation Award recognises the innovative capabilities and services developed by UK security companies, and is specifically designed to identify those capabilities that have caused a step change in the effectiveness of the UK's ability to prevent, respond to, reduce the impact of or investigate security risks and incidents.
The winner was announced by Angela Essel, Head of the Home Office's Joint Security and Resilience Centre (JSaRC), and ADS Chief Executive Paul Everitt after a contest between six shortlisted nominees.
AR Live Systems won for its Galahad facial detection and recognition software, an innovative use of machine learning and artificial intelligence to address legal and privacy challenges of use of facial recognition for law enforcement purposes. Find out more
Mike Eisen, CEO of AR Systems Live said:
"To be chosen the Winner of the ADS Innovation Award at Security and Policing 2021 is a fantastic accolade for our business. To receive this award for our GALAHAD software product at our first time exhibiting with such a prestigious show, makes it all the better and rewards our dedicated team of software innovators led by Andor who has steered the development of the first truly ethical AI, working closely with Brian Lovell and his researchers.
"Like all innovative businesses, this is the culmination of considerable sweat and tears behind the scenes, of a great team which has now delivered us a truly ground breaking package that can deliver accurate and fast results, that will meet the toughest and tightest of standards world-wide, able to be used in court and justify the support of Francis Howard who has also shown great faith in this enterprise from the start.
"We look forward to working with the professionals at Security & Policing in the future and congratulate them and our fellow exhibitors for showing that even pandemics cannot halt British Business Innovation."
Paul Everitt, ADS Chief Executive said:
"Congratulations to AR Live Systems who have created a piece of software which aims to solve the privacy and legal complications around use of artificial intelligence in facial detection and recognition. This innovation has the potential to play a major role in supporting the security services as they look to harness the use of AI without compromising important boundaries.
"The ADS Security Innovation awards celebrate the dedication, determination and hard work of UK companies across the security industry.
"Companies in the UK Security sector are skilled in delivering high quality products and services make a vital contribution to our national prosperity and security. Congratulations to all of the shortlisted companies who have been recognised this year for their outstanding innovation and thank you to all those helping to make a difference."
After the finalists were chosen, a judging panel consisting of Mike Clayforth-Carr, Vice President; Security and Resilience at ADS; Andy Caldwell, Head of the Defence and Security Accelerator; Angela Essel, Head of JSaRC at the Home Office; and Simon Harwood, Chairman of Academic RiSC, selected the winner following the Live Pitch session that was broadcast on 9 March in the Fusion Forum at Security & Policing 2021.
Issured were highly commended for Mea: Connexus, a secure blockchain-enabled video interview and engagement solution.
The other products and services shortlisted in the Innovation Awards include:
Chorus Intelligence for Chorus Search, software that accesses online data for police investigations;
FlareBright of London for Snapshot, a ruggedized nano-UAV;
SeeQuestor for its Big Database lLookup facility that reinforces the SeeQuestor video analytics platform by broadening its search capability to large databases.